Why Select Assisted Living in Augusta, GA?
Nestled along the banks of the Savannah River near the border of Georgia and South Carolina is the beautiful city of Augusta. The city is the oldest in the state and it is home to a considerable senior population due to its incredible year-round weather and low cost of living. In fact, the cost of living is so low that Augusta has some of the most affordable assisted living facilities in the state. Along with its rich cultural heritage, abundance of senior-friendly activities, and nationally recognized hospitals, it should come as no surprise that assisted living communities in Augusta, Ga are in high demand among seniors looking to enjoy their golden years in comfort without sacrificing their financial security.
Perhaps most known for its Masters Golf Tournament, which is played at the iconic Augusta National Golf Club, Augusta has a lot more to offer than just golf (although the sport is very popular in these parts). It has an outstandingpublic transportation system, a robust selection of senior and community centers, excellent restaurants and shops, and progressive senior services that are designed to help the community's older population live their best lives.
Augusta has everything you need to enter this next phase of your life with grace and ease. Moving into assisted living in Augusta can understandably be intimidating, but once you get the assistance you need, you won't believe how much better your life will be. If you want to learn more about assisted living in the city of Augusta, then this guide from Senioridy will help.
Assisted Living in Augusta, GA: What You Need to Know
Senioridy has all the information you're looking for if you're wanting to learn more about Augusta's assisted living options. Just click on the topics below to learn more about assisted living in Augusta.
Senior Population and Assisted Living Volume in Augusta, GA
Typical Costs of Assisted Living in Augusta, GA
Criteria for Admittance
Benefits of Assisted Living in Augusta, GA
Senior-Friendly Attractions in Augusta, GA
Senior Centers in the Augusta Area
Transportation Services in Augusta, GA
Senior Population and Assisted Living Volume in Augusta, GA
Augusta is the oldest and second-largest city in Georgia. It has a population of about 198,000 people, of which approximately 13.5% are seniors aged 65 and over. One reason why so many seniors find Augusta irresistible is that this part of the country has a humid subtropical climate, which with its hot summers and short, mild winters, is very accommodating to the preferences of older adults.
Another reason for Augusta's large senior population is that the city enjoys a low cost of living that allows older adults to get more value out of their limited incomes. Augusta's cost of living is approximately 19.3% lower than most other parts of the country.
And with more than 20 assisted living communities to choose from in Augusta, there's no shortage of options available for those interested in moving into assisted living.
Typical Costs of Assisted Living in Augusta, GA
Living in an assisted living facility in Augusta, GA costs residents an average of $3,090 per month. This is considerably lower than the national average by several hundred dollars and is even lower than the already affordable state average of $3,500 per month.
While Medicare does not cover assisted living costs in Georgia, Medicaid will fund assisted living for low-income and medically needy seniors through its Community Care Services Program (CCSP). In Georgia, Medicaid funds more than 70% of assisted living stays. To learn more about the CCSP or to apply, visit the Georgia Medicaid website or any local Department of Family and Children's Services office. Other resources that may be able to help you afford assisted living can include:
Veterans Benefits
Life Insurance Policy
Long-Term Care Insurance
Reverse Mortgage
It is always important to remember that most assisted living communities offer a variety of amenities to their residents, and these can affect their costs. Things that can affect the total cost of assisted living can include:
Restaurant-style dining
Private and shared apartments with full kitchens
Housekeeping and linen service
Scheduled transportation
Social, cultural, and recreational activities
Emergency response system
On-call medical staff
Most facilities also typically feature large social rooms for attending community activities, full-featured fitness centers, libraries, media rooms, and other resources for seniors to help make their new lifestyle as easy and enjoyable as possible.With its affordable living options, it should come as no surprise that there can sometimes be a waiting list to get into some of the best assisted living facilities in Augusta.
Criteria for Admittance
Augusta's assisted living facilities are regulated by Georgia's Department of Community Health, which licenses assisted living facilities throughout Georgia and ensures that they comply with state rules and regulations. While Georgia is a state that does not have any pre-set admittance requirements for individuals looking to become an assisted living resident, if the individual is planning on funding some of their costs through Medicaid, then they will need to meet certain requirements with Medicaid. To qualify for funding of long-term assisted living care with Medicaid, a senior must:
Have a physical or mental impairment that makes it impossible for them to care for themselves. The impairment must be diagnosed and documented by a doctor.
Have a monthly income that meets the Medicaid eligibility threshold.
Have less than $2,000 in assets, excluding their home if their home is worth less than $572,000 (as of 2018).
Benefits of Assisted Living in Augusta, GA
The goals of every assisted living facility in Augusta is to provide each resident with a safe living space, a better overall quality of life, access to excellent healthcare, and high personal satisfaction. While the programs and services they offer can vary based on the facility, most provide a standard set of services that allow their residents to enjoy certain freedoms and experiences, such as:
Personalized Care
In assisted living, yourcontinuum of care is determined by your own healthcare needs and personal preferences. Since no two residents have the same needs, most facilities can provide customized levels of care that can include anything from 24/7 nursing care and medication administration tomonitoring and management of certainmood and behavioralissues.
Hands-On Assistance with Daily Living Tasks
Not every resident who chooses to move into an assisted living community has severely complex health issues. Some simply need assistance performing their daily living tasks, or ADLs, like housekeeping, laundry, bathing, and other tasks. In fact, this is one of the most common reasons why seniors move into assisted living. When you move into assisted living, you can have peace of mind knowing that the facility's staffis always available to provide respectful, hands-on assistance that protects your dignity regardless of how much, or little, support you need.
Safety and Security
When an elderly loved one starts experiencing memory issues or becomes prone to wandering, there is nowhere safer for them to be than in assisted living. These facilities are equipped with advanced safety and security measures that protect their residents and provide valuable peace of mind to their family members.
Access to Quality Healthcare
Augusta's assisted living communities offer their residents access to high quality healthcare both on-site and when necessary, at local hospitals and other types of healthcare facilities. When residents need off-site medical treatment, they can get the care they need at one of several nationally recognized hospitals in the Augusta area, including Piedmont Augusta Hospital, Augusta University Medical Center, and Charlie Norwood Veterans Affairs Medical Center, to name just a few.
Social Activities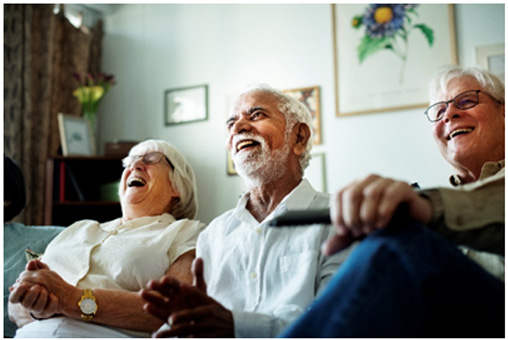 Being socially active is important when a senior moves into assisted living because it can help them avoid potential problems like feelings of isolation and depression. This is why assisted living facilities offer so many different social activities for their residents to partake in. From card games and dance classes to book clubs and pottery and gardening programs, there are dozens of different opportunities for making friends and having fun.
HQuality Nutrition and Dining Options
In assisted living, residents are provided freshly prepared and highly nutritious meals that can be altered to meet just about any special dietary need or restriction. The quality of the ingredients is always a priority because good health starts with good nutrition. Most assisted living facilities also offer an array of dining options, such as flexible mealtimes, outstanding meal variety, diet-specific meals, and more.
Comfortable, Home-Like Setting
While most assisted living facilities provide their residents with apartment-style living spaces that can be either furnished or unfurnished, they usually grant their residents the freedom to decorate their new living spaces as they wish. This is an important benefit because it allows a senior to make their apartment feel more like their home, especially because the more comfortable a new resident is in their home, the easier the transition will be to their new living situation.
Quality of Life in Augusta, GA
Seniors moving into assisted living in Augusta are making a great choice because the city provides them with the opportunity to enjoy an outstanding quality of life. The city is home to excellent year-round weather, quality healthcare services, great restaurants and shops, and plenty of senior friendly attractions.
For art lovers, some of the most enjoyable places to visit can include the Morris Museum of Art, Westobou Gallery, the AU Grover C. Maxwell Performing Arts Center, and the Gertrude Herbert Institute of Art. History buffs also have plenty of reasons to love living in Augusta because it's home to the Augusta Museum of History, the Lucy Craft Laney Museum of Black History, the historic Appleby Library, and the Boyhood Home of President Woodrow Wilson, just to name a few.
The truth is in Augusta, GA you'll find an abundance of senior-friendly stops, along with several beautifully maintained parks where you can get your fill of natural beauty, such as Aiken State Park, Brick Pond Park, and Mistletoe State Park. And from antique stores to discount outlets, Augusta has every type of shopping experience you could ever wish for, and it's all accompanied by some of Georgia's best restaurants outside of Atlanta serving everything from Augusta's famous Deep South barbeque to the sandwich made famous by The Masters golf tournament, pimento and cheese sandwiches.
Senior Centers in the Augusta Area
Augusta's Senior Services Division operates several senior and community centers where many special events and programs are provided that are designed and coordinated solely for the city's Senior Adult population. Augusta's senior and community center locations include:
Transportation Services in Augusta, GA
In Augusta, public transportation is provided by Augusta Transit. The transit system operates nine routes throughout the city, which provides easy and affordable access to all parts, including the Augusta Mall, Barton Chapel, and East Augusta. And it connects to Aiken County's Best Friend Express at the Broad Street Transfer for those looking to travel beyond the city's borders. Augusta Transit offers discounted fares for the elderly (65 and over) and handicapped persons (with a Medicare Card, APT, or APD ID).
Augusta Transit also provides ADA paratransit services for those unable to ride the system's standard buses. The paratransit service offers curb-to-curb transportation to qualifying persons with permanent or temporary disabilities.

How to Find Assisted Living Facilities in Augusta, GA
Whether you are looking for an assisted living facility for yourself or a loved one, there are a few options available to you that can help you find the right one for your needs in Augusta and the surrounding area. One option is todo it the old-fashioned way by looking in the phone book or inquiring about assisted living from your friends and relatives.
Another is to contact a placement agency. Senior placement agencies help seniors find the right assisted living facility for them by working with the senior and their family to find the best possible fit for their needs. These types of services typically charge a referral fee to the Assisted Living community since they are bringing in revenue to that facility, so they don't usually charge seniors or their families. It is important to note that since agents can only get paid by assisted living facilities that they have contracts with, you may not be shown all the assisted living facilities that are available to you.
Another option is to use an online directory to search for assisted living facilities in or near Augusta, GA from Senioridy.com. Senioridy's comprehensive assisted living search engine can provide you with the best possible results based on your needs.
By accepting you will be accessing a service provided by a third-party external to https://www.senioridy.com/