Home Health Medical Care for Seniors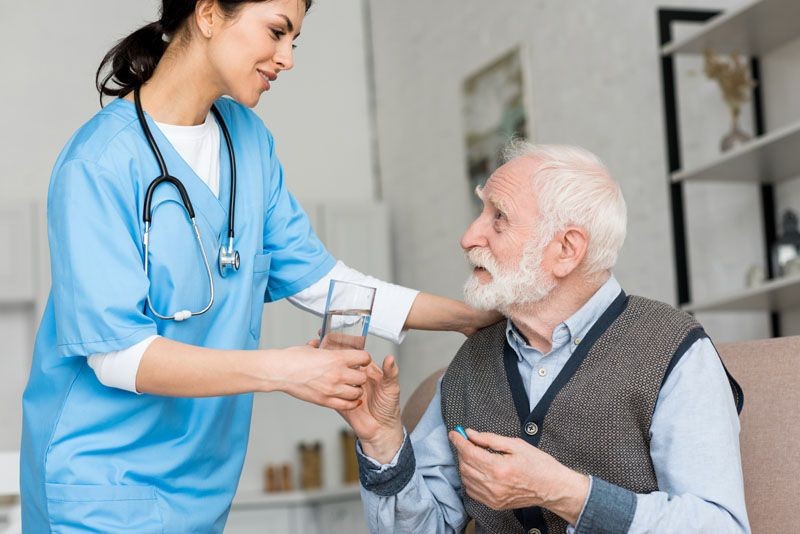 Your body can be like like a well-oiled machine; and just like any machine, it can break down with age or with over-usage. As you grow old, your body may not function as it used to; you may encounter numerous health and medical problems requiring constant care from medical professionals. When this happens, you can opt to get treatment in a hospital or opt for home health care.
In our Home Health Guide below we are going to dicuss the following topcs, please feel free to use the links below to jump to that section directly:
What is Home Health Care?
In most cases, people over 65 years of age do not function as actively as they did during their youth. Many senior citizens will require help with their day-to-day activities and some of those older adults are completely homebound.
A recent commonwealthfund.org survey estimated that around 1.9 million U.S. seniors aged 65 years and older are homebound, while another 5.3 million have limited functionalities. Because these groups find it difficult to leave their homes without assistance, they will need to manage their medical conditions from within their homes.
Home health care is a program that provides care for adults that are completely or mostly homebound or are not able to receive care from outside of the home due to surgery or injury. Home health care includes medical care to rehabilitate seniors that have fallen ill due to a chronic condition, heart failure, or injury. This type of care may involve occupational, physical, and speech therapy services, depending on the senior's circumstance.
For example, a patient that has suffered from a stroke may have difficulty speaking normally because of paralysis in the facial muscles. For these circumstances, a speech therapist can work with the senior patient speak so they may learn to speak as normally as possible again.
While senior home health care focuses on medical care, some services also involve helping the patient with cleaning or bathing, dressing up, eating and other activities of daily living (ADLs) if the senior patient is not well enough to perform these tasks without assistance. Home health care services may also include assistance with preparing meals and other housekeeping activities around the house. However, the main goal of home health services is to monitor the medical condition of the senior patient.
Home Health vs In-Home Senior Care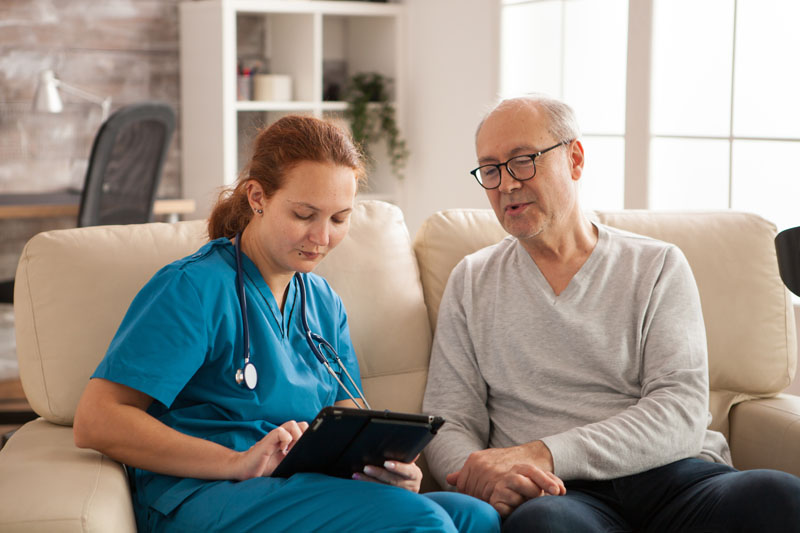 Many people interchangeably use the terms "home health" and "in-home senior care" butthese two terms are completely different from one another.
While home health care services may involve helping an elderly patient with housekeeping, the main focus for home health care is medical. Home health care focuses on helping an elderly patient recover from an injury or illness. On the other hand, in-home senior care is usually non-clinical and non-medical and involves services to help patients with their daily activities.
Another difference between the two is the qualifications of the staff providing the service. In-home senior care providers will give senior patients staff who are trained to help them with their household chores. However, the staff may or may not be trained to handle medical procedures. On the other hand, home health care staff are qualified medical workers trained to handle medical procedures such as wound care, monitoring of health status, and administering medications and shots.
When you are trying to determine the appropriate level of senior care needed, it is usually best to write down in detail the services that are specifically required. Below is a breakdown of the differences between these two In-Home service providers.
Home Health Care Provider Services
Senior home health care is usually provided by licensed medical professionals such as registered nurses (RNs), licensed practical nurses (LPNs), and therapists. A doctor prescribes home health care to help patients recover following hospitalization or injury. Services that home health care agencies may provide include but are not limited to the following:
Physical, Occupational, or Speech Therapy
Medical Testing
Monitoring of Vitals and Health Status
Wound Care
Administration of prescribed medicines and injections
In-Home Senior Care Services
In-home senior care is provided to seniors who need assistance with their daily activities. However, the services offered by senior home care are non-clinical. Home care workers are trained to be compassionate and understand the needs of the elderly under their care but may or may not be licensed or qualified to provide medical services. In-Home senior care services may include the following:
Companionship – making sure that the elderly has somebody to talk to and accompany them in different activities.
Providing transportation
Helping the senior with activities of daily living (taking a bath, grooming, incontinence maintenance, etc.)
Preparing or ordering meals
Spoon feeding or help with eating
Cleaning and organizing the house
Managing the finances of the patient
For a complete guide to understanding the services that are provided by In-Home Senior Care, please see our guide "In Home Care Services for Seniors" https://www.senioridy.com/in-home-senior-care-services/
Combination. Seniors may choose to combine both services and benefit from having qualified health professionals to provide them with medical services while having aid workers to assist them with their ADLs.
Note, however, that Medicare does not cover in-home senior care costs since their services are not classified as medical. However, if a senior is eligible, Medicaid can cover both home health care and home care services, although the amount of coverage will vary from state to state.
Can I Select My Own Home Health Provider?
It is within a patient's rights to choose a home health care provider. It would be best if you choose which one will best suit your needs. Likewise, when choosing a senior home health care provider for your elder relatives, it is best to think about your loved ones' needs and choose an agency that can provide the care and services which are required. Here are some of the factors to consider when choosing a home health provider:
Certified by Medicare or Medicaid
Medicare and Medicaid are federal health care programs that provide coverage for residents that are 65 years and older or for persons with disability. The difference between Medicare and Medicaid is that the federal government manages the former, and the eligibility is based on age or disabilities. On the other hand, Medicaid is managed by the state government and is given to persons with income that fall way below the federal poverty threshold.
A Medicare and Medicaid certified home health agency (HHA) has met the strict federal and state standards in terms of quality health care. If you choose home health care agencies that are not certified by either Medicare and Medicaid, you will not get coverage from the two programs and will have to pay for home care services out of your pocket.
Types of Home Health Care Services Provided
You can choose among several home health care agencies. Some may specialize in one type of service, while others may offer a complete range of health care services. Choose an agency with the right health care programs for your patient. For example, if your loved one has suffered a stroke and can no longer swallow, it is best to choose an agency that is familiar with feeding tube regimens and can provide rehabilitative swallowing therapy.
Qualified Staff
Check the qualifications of the staff assigned to your patient's home. Are they licensed and highly qualified? It is also important to determine if the home health care agency's staff is receiving ongoing training to learn the latest developments and innovations in giving quality care for the elderly and the disabled.
Reputation
Recommendations from family or peers will give you an indication of the reputation of an agency. Likewise, an agency that has been in the home health care field for a very long time may mean that they have a solid reputation and that their patients are highly satisfied with their services. When choosing a Home Health care provider, choose an agency that comes highly recommended and has solid online reviews from sources like Google, Yelp, or Bing.
Availability and Flexibility
Choose an agency with staff who are available 24/7, including the holidays and weekends. Ask prospective agencies what their average response time is during an emergency and check to see the availability and flexibility of their staff. Can they send a replacement immediately if your regular care worker falls sick or takes a leave?
Explanation of Costs and Expenses
A reputable home health care agency must be able to explain verbally and in writing the costs of their services and what your insurance, Medicare, or Medicaid can cover and what expenses you must pay out of pocket. It would be beneficial to select a provider that will supply you with literature that explains their services, how you can become eligible for Medicare and Medicaid coverage and options for funding sources.
Likewise, a reputable agency will also furnish you with a detailed Bill of Rights that will outline the patient's rights and responsibilities and those of the service provider and its personnel.
Accreditation
A tell-tale sign that an agency is dedicated to a higher performance level is getting accredited with different professional organizations in their field. Home health care agencies that meet the strict standards of accrediting agencies, such as the Accreditation Commission for Health Care (ACHC), are committed to giving their patients the utmost quality care.
Tailored Home Care Plans
It is best to choose a home health care provider that will include you or your loved ones in coming up with a care program specific to your needs but will still meet the requirements prescribed by the doctor. You may have unique needs, such as eating only vegan meals, that your Home Health provider should incorporate into that plan.
How Much Does Home Health for Seniors Cost?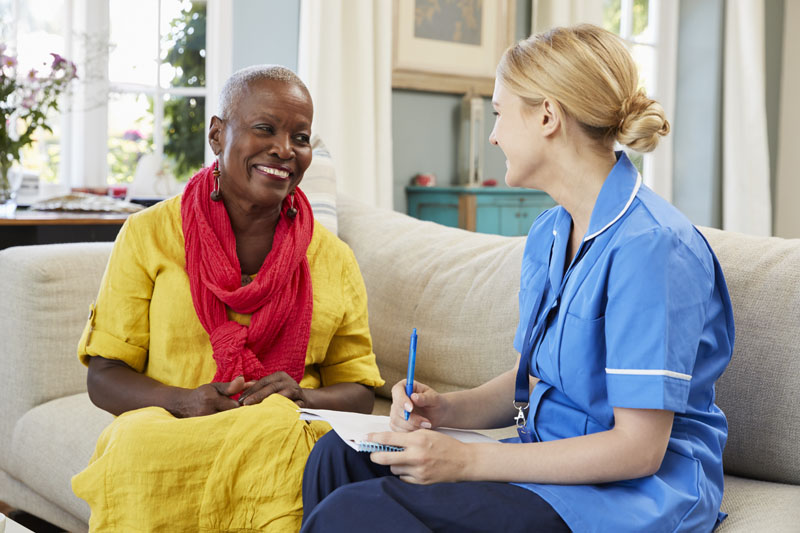 The cost of home health care for seniors and the disabled will vary depending on which state you are in. As of 2020 data, the average cost of home health care for seniors is around $4,481 per month. This cost is based on 44 hours a week of home care by qualified staff. However, if you require 24-hour care, you will expect to pay from $8,770 to $11,615 per week, which depends on your need for active night care. The price of home health care is increasing per year and has increased from 1.88 to 3.8% per year.
Does Medicare Pay for Home Health Care?
An eligible person may receive Medicare home health care coverage either through Part A or Part B coverage, depending on specific circumstances.
Patients eligible for Medicare will get coverage on intermittent skilled nursing care and home care provided by a home health worker. However, to become eligible for Medicare home health care, you need to meet the following requirements:
You are confined at your home, and it will be extremely difficult or dangerous for you to leave your house. You also need help in going outside of your home.
You require the recurring services of skilled nurses or therapists. These services are required on an intermittent basis, at least once every two months to up to once a day for three weeks.
Your home health care needs must be finite and predictable. For example, you will need therapy every other day.
The care that you require must be performed by qualified, skilled professionals that pass Medicare standards.
You require therapy services such as physical, occupational, or speech therapy.
You had a face-to-face consultation with a licensed doctor within 90 days before starting your home health care program. Medicare will not cover any home health care services without a doctor consultation.
Your doctor should certify that you are homebound and that you require intermittent home health services. Your doctor should also devise a care program for the doctor's face-to-face assessment of your condition.
Your doctor must review your home health care plan regularly and adjust your requirements accordingly.
The home health care provider that you chose should be Medicare-certified.
You will be eligible for Medicare home health care coverage if you meet all these requirements. However, it is important to note that you will not qualify for Medicare home health care if you only require an occupational therapist's services. But you can include occupational therapy as part of other home care services that you may require.
How Can I Find Home Health Care Agencies Near Me?
If you or your loved one needs home health care, you can try to find an agency by typing "home health care near me" in your favorite search engine, and it will give you a list of agencies within your locality. However, while there are advantages in choosing health care agencies nearest your location, it is often difficult to get the kind of detailed information you may need to make an informed decision.
You can always visit Senioridy's Home Health Care Provider page to find detailed information about a Senior Home Health Provider near you.
By accepting you will be accessing a service provided by a third-party external to https://www.senioridy.com/