The Benefits of Skilled Nursing Facilities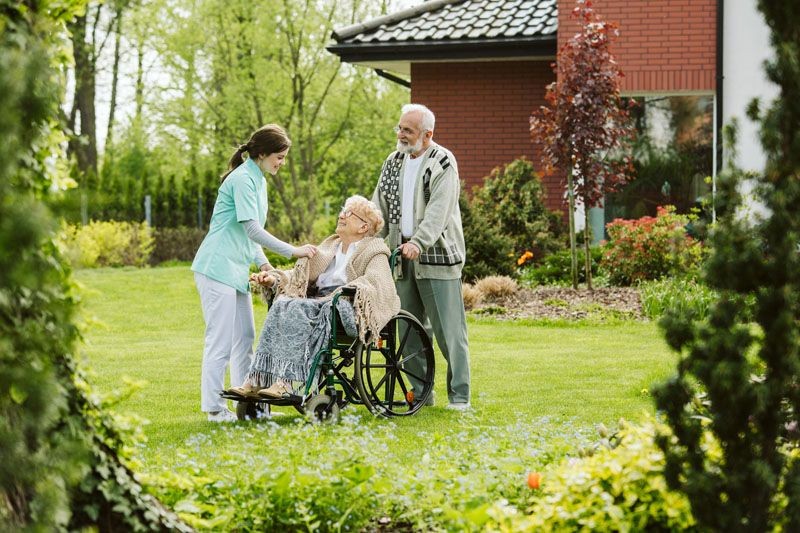 Moving your loved one to a nursing home may be one of the most difficult decisions that you will have to make. This decision will leave you with mixed emotions, including guilt, grief, anxiety and relief. Your feelings of guilt and grief may come from the feeling that you have let your elderly loved ones done by not taking care of them yourself. However, you may change these emotions into relief and calmness by ensuring that the resident care services they will receive will be better than what you can offer.
It is therefore important for you to choose the right facility for your senior. We will cover the following topics in this guide so read on to know more about nursing homes and understand the different options available for your elderly loved ones. Feel free to click on a link below to be taken to that particular section.
What is a Skilled Nursing Home?
A skilled nursing home, also known as a Skilled Nursing Facility (or SNF), is a physical building where people reside to receive care by aides and skilled nurses. Nursing homes have skilled medical staff, including licensed nurses and care aides that are available 24 hours per day.
A nursing home primarily cares for elderly patients who do not need to be confined in a hospital but who are no longer capable of living in their homes. A skilled nursing home can accommodate elderly patients as permanent residents for the remainder of their lives.
A nursing home will have a compassionate staff that understands the nuances of senior patients. These staff may or may not be licensed medical professionals. A nursing home will have skilled nursing staff such as registered nurses (RNs) and licensed practical nurses who can handle their residents' medical care.
Likewise, nursing homes will have aides that are trained to handle senior care. These aides will assist the elderly residents in activities of daily living (ADL) such as maintaining personal hygiene, grooming, bathing, preparing meals, transport, and other non-medical activities.
The medical staff at skilled nursing facilities are responsible for medical care, including administering prescribed medicines, installing and removing a catheter if needed, monitoring the resident's vital signs, and coordinating with the elderly's relatives on any change in status or emergency.
Skilled nursing homes may accept elderly residents even if they do not require medical attention, but usually they do not. It is rare to find residents in nursing homes capable of taking care of themselves since assisted living facilities and independent living senior communities cost so much less.
The Advantages of Skilled Nursing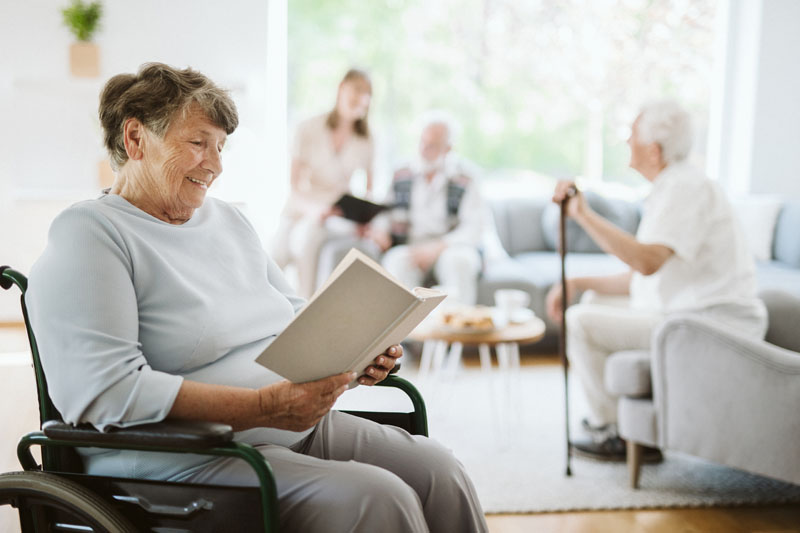 While there is a negative impression that nursing homes may project, they play an important role in the longevity and quality of a senior's life. If an aging person has a deteriorating physical or mental condition that requires round-the-clock supervision there is no better place for that senior than in the care of staff that are trained to handle whatever situation may arise.
The typical family caregiver would be in well over their heads in a very short time if the care was left solely up to them. The medical staff at a skilled nursing facility are trained to recognize issues before they become problems. For example, an untrained caregiver probably cannot recognize the initial signs of an infection or may not know how to handle the first signs of a heart attack or stroke. Along with medical needs, seniors with deteriorating health may need to be cleaned from dirty diapers several times a day, may need to be spoon-fed or have liquid food administered by a feeding tube. The tasks that are needed are constant and a family member may very well have to devote every minute of their time, day and night, to the care of the senior patient.
Along with the peace of mind in knowing that your loved will be well cared for, there are some other perks that come from having a senior patient admitted to skilled nursing care:
Instant Access to Medical Care and Services
Nursing homes have skilled medical professionals onsite. You can rest assured that you or your loved one will get prompt attention when medical care is needed.
Diet and Nutrition Planning
As you grow old, the types and amount of nutrients that your body needs changes. In a nursing home a certified nutritionist and dietician will prepare meals according to your body's needs. It is a federal requirement that the nursing home's diet and nutritional planner will consider their senior residents' dietary needs.
Guidance on Physical Activities
Patients will be guided by trained caregivers on what physical activities they can do based on their assessment of your capabilities. In a nursing home, you will benefit from supervised guidance to do physical activities such as walking, swimming (if the nursing home or community has a pool), and other activities to keep your muscles and bones healthy.
Socialization
Staying in a nursing home will also allow you to socialize with people close to you. Regularly interacting and speaking with other people is the best way to maintain a sharp mind. The care staff of the nursing home will encourage you to spend time with fellow residents. Care staff are also there to talk to you if you do not want to interact with other seniors.
Assistance with Daily Tasks
As you age, some routine daily tasks may become difficult to complete. Staff at nursing homes will assist you with personal care such as grooming and bathing, and other daily living activities that you are having difficulty with.
Sense of Security
Even if you do not require assistance with your daily activities, when you are residing at a nursing home, you can rest assured that care providers and licensed medical professionals are available in case you need them. Likewise, staff at the nursing home will monitor any changes in your health status.
Nursing Home Considerations
Picking a nursing home for your loved ones can be a daunting task, especially since this will be an emotional time. Your feelings of guilt and anxiety may affect how you choose. To ensure that your elderly loved ones are given the best care possible, it is best to make careful considerations in choosing a nursing home for them. Here are some of the things to consider.
Government Inspection Ratings
While it is a good start to consider nursing homes that are personally recommended by people you know who have first-hand experience with a particular facility, this should not be the sole factor in your decision. It is often helpful to check for the ratings that these prospective nursing homes have online. Medicare, a health program by the federal government of the U.S., inspects and rates different nursing homes across the country. Check their official website to see how your prospective nursing homes rate according to their standards. Keep in mind though, that Medicare tends to run behind in follow-up inspections and a residential care facility may have to wait over a year to have a simple issue re-evaluated.
Staff to Patient Ratio
It is important to check the staff to patient ratio of the nursing home. If the ratio is too high, it is more likely that staff members will not give sufficient care to their patients. A low staff to patient ratio will indicate that nursing home residents can receive sufficient care and that this care is personalized. Likewise, low staff to patient ratio means that the staff will not be too tired to take care of your loved ones. An ideal staff to patient ratio is one direct care staff for ten residents for the evening shift and one direct staff for fourteen residents for the day shift.
Check Staff Turnover Rates
It is also important to check the staff turnover rates of the nursing home. A high turnover rate will mean that the staff working at that nursing home are unhappy with the management. Unhappy staff may not be able to provide sufficient care for your loved ones.
Size and Location of the Nursing Home
Selecting a nursing home that is located close to where you live will make it easier for you to regularly visit your loved ones. Likewise, the size of the nursing home will indicate how many other residents your senior can socialize and interact with.
Quality of the Food
You should consider the quality of the food given in nursing homes. It is best to see what food options the nursing home have. Does the nursing home have a dietician or nutritionist in its staff? Does the nursing home get their food ingredients fresh? Do residents have options for choosing their food? Does the dining area have a good ambience? It is best to visit a prospective nursing home during mealtime and check how the meals are prepared.
Include the Prospective Resident in the Decision
If your elderly loved ones can still provide their own opinions and preferences, it is best to include them in the decision to choose the right nursing home. They are the ones that will be residing in the nursing homes, so their opinions are important and if they feel that they are a part of the process there may be better acceptance of this difficult transition.
Residential Nursing Home vs. Rehabilitative Nursing Care
Residential Nursing Care is also known as a Skilled Nursing Facility or Nursing Home. Rehabilitative Nursing Care is more commonly referred to Short Term Skilled Nursing. Typically, when someone is saying "Skilled Nursing" they are referring to short term skilled rehab. On the other hand, when someone is referring to a long term or permanent stay they tend to use the term Nursing Home.
A short-term skilled nursing facility (SNF) should not be confused with a skilled nursing home or living facility. While both have "skilled" medical personnel and services, the two facilities differ in their main focus. A nursing home accepts residents based on their long-term needs and can accommodate senior residents for the remainder of their lives. A rehabilitative skilled nursing facility, meanwhile, may accept patients but can only accommodate them for short periods. Most often than not, the maximum number of days that a patient can stay in a skilled nursing facility is 100 days because Medicare does not pay for more days than that.
Keep in mind, however, that many long term skilled nursing facilities also have a separate section where they also provide short-term rehabilitative therapy. Occasionally a patient of a short-term skilled nursing therapy program will have life-long injuries and will transition directly from the short-term skilled rehab section to the same facility's long term care section of the building.
Skilled nursing rehab facilities have licensed and qualified nurses and therapists to assist patients with their medical and rehabilitative care. The main purpose of skilled nursing facilities is to transition between hospital care and the patients' homes. SNFs will provide their patients with the following services:
Post-surgical care
Complex wound care involving dressing and disinfecting wounds and surgical incisions
Tube feeding patients
Physical and/or occupational therapy
Rehabilitative care for patients who suffered a stroke or was involved in an accident
Speech therapy to regain normal speaking
Typical Long-Term Skilled Nursing Facility Costs
The cost of staying in a skilled nursing facility will depend from state to state and from facility to facility. The average national cost is $7,756 per month for a semi-private room and $8,821 per month for a private room. These numbers are the average national cost and may not accurately represent the cost for a particular state.
The amenities offered at some care facilities are greater than at others. A big trend in nursing home care is to provide cottage-style living. Nursing Home Cottage Living is a setup where the facility section that the patient resides in is more like a college dorm with common areas and eating spaces that are like the living and dining areas of a family home. Obviously, costs for the additional services and amenities can have a big impact of the overall price of the stay.
When you are getting close to a decision and need accurate price information, you should contact prospective nursing homes directly for their cost details.
Who Can Live in a Skilled Nursing Facility?
Federal and state laws prohibit nursing homes and skilled nursing facilities from discriminating against any patient or resident applicant based on race, ethnicity, age, sex, and religion Nursing homes and skilled nursing facilities that violate these laws can find themselves in trouble with the authorities if proven to have discriminated against a patient.
Persons who may be a candidate for a skilled nursing facility must meet the following criteria:
The resident must need to have medical care or not be able to perform all of their Activities of Daily Living ADLs without help.
The resident must have a condition that will not get better within 100 days
The resident must have the ability to pay for their long-term care or must be on Medicaid and in a Medicaid Approved facility. Alternatively, residents that are veterans and that receive veterans benefits or, in some cases, their spouses, can stay at a VA long-term nursing facility.
Does Medicare Pay for Skilled Nursing Homes?
Although Medicare does pay for some part of some days for short-term rehabilitative care, Medicare does not cover the general cost of a stay in a skilled nursing home. This means the accommodation and the non-medical care given to nursing home residents are either paid for by family members, thru private long-term care insurance, or by being eligible for Medicaid.
However, even if Medicare does not cover the non-clinical costs of staying in a nursing home, patients can still use Medicare to pay for charges for doctors, nurses, therapists, and medicines and medical supplies that patients will require while they are in a nursing home.
How Can I Find a Skilled Nursing Home Near Me?
While there are quite a few good search sites available, the absolute best tool to find a skilled nursing home near you is to look right here on Senioridy's search platform. You can use our map-based search to locate a Skilled Nursing Facility near you or you can visit our listing page and filter out the facilities that have the best care options for you. Remember, on Senioridy you can compare, save, and share your selections with those other decision makers in your family so that everyone agrees on the selection that has been made. Then, just reach out directly to that nursing care facility by tapping the phone number or by sending them an inquiry. All calls and inquiries go straight to that assisted living facility with no cost to you for reaching out.
By accepting you will be accessing a service provided by a third-party external to https://www.senioridy.com/