Hospice Care – What You Need to Know
When faced with a serious medical condition, it is always important to seek help from experts who can guide you accordingly and prescribe the right healthcare plan. The same can be said for anyone who is terminally ill and facing the end of life journey. Hospice home care and Hospice care facilities are made precisely for this purpose, providing patients with end of life care to support their needs during their final moments.
Hospice care encompasses a comprehensive care plan that tends to every aspect of a person's well-being to ensure they live comfortably and at ease during their final months. If you have searched for Hospice care near me to find nearby facilities that can help you out, you can view a list of Hospice Providers here on Senioridy. Choosing the right place is a must to ensure you get adequate care and support, so take your time learning about what each place has to offer.
Understanding how hospice home care works will be particularly beneficial for you, whether you intend to be a caregiver or a family member supporting another. Check out the information below to learn more about hospice care, palliative care, and the services you can expect to get from a hospice care facility. Here is what we will cover in this guide:
Hospice Care for Seniors
Hospice care is a holistic approach intended for patients with terminal or advanced illnesses that can no longer be treated or controlled. It involves providing comfort and compassion to people approaching the end of life to help them live as fully as possible during their final moments. Generally, patients will be qualified for hospice care if their physician declares that they are terminally ill and only have six months or less time left to live.
Hospice services focus on improving a patient's overall well-being. As such, it is not just about tending to a patient's physical medical needs but also looking out for their emotional, mental, and spiritual health. As a whole, hospice care is built on the philosophy of accepting death as the final stage in life and allowing it to happen naturally.
Some would describe hospice as gentle End of life care as it aims to move away from the mentality that patients must pursue active treatment diseases. Hospice care advocates for freedom of choice, granting patients the right and liberty to decide how they want to live their last few moments.
If you have relatives or immediate family who are elderly and are suffering from an illness, you might also hear about palliative care. Understanding how this differs from hospice care will be important to ensure you choose the right care plan.
What is Palliative Care?
Palliative Care is slightly similar to hospice care in that it also aims to provide comfort, ease pain, and improve the quality of life of patients with serious illnesses. It is common among individuals with conditions that have long-term or long-running symptoms like heart disease, kidney failure, AIDS/HIV, and the like.
However, the main difference is that palliative care can be given right at the time of diagnosis or at any point in a patient's journey. It can be provided alongside medical care and treatment to address symptoms and side effects. Like hospice care, palliative care also aims to provide holistic care to the patient to ensure their physical, emotional, and spiritual well-being.
Essentially, hospice care is a specific type of palliative care since it focuses on patients who are nearing death. Palliative Care is much broader, encompassing all patients facing a serious illness, regardless of whether they are approaching the end of their life. Since the two are related, doctors may sometimes advise patients to transition from a palliative to a hospice care plan if they find that treatments are no longer working or the patient decides to stop getting treated.
The Hospice Team Care Plan
Whether you decide to get Hospice care at home, in a hospital, or in a nursing facility, you can expect to have a team who will help you come up with the proper patient care plan. Your team will be multidisciplinary and made up of professionals with different lines of expertise. Aside from your doctor, you will also usually have a registered nurse, medical social worker, hospice aide, and trained volunteers to help you all throughout.
The decision to get hospice care may result from different causes. Some patients may opt to forgo curative treatments to live their last few months comfortably, whereas others may choose to stop if they notice that their health is declining despite being treated. In the latter case, patients may find hospice more beneficial as they can stay comfortable and avoid active treatments at their final stages.
Understanding Hospice Care Levels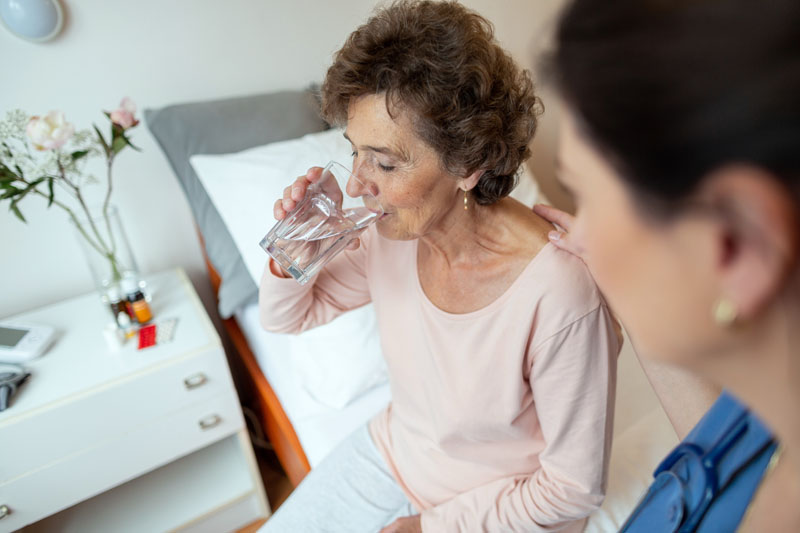 If you or your loved ones are planning to get started with a hospice care program, it helps to learn about the four levels defined by Medicare. Having the flexibility and liberty to decide on an arrangement allows you to stay with your family at home or move to an inpatient facility if you need more comprehensive care.
Some patients may go through just one level throughout their hospice care, while others may go through all four levels progressively. It ultimately works on a case-to-case basis, so understanding each level will be important to make sure your loved ones are given the best possible care.
Routine Home Care Hospice Level
Routine home care is the standard and basic level of hospice care, which usually involves working with your physician and some hospice staff. Common services provided for this level include:
Home health aide services
Medical supplies for home use
Physical, occupational, and speech therapy
Volunteer visits
Grief and bereavement counseling
Medical social services
H3 - Continuous Home Care Hospice Level
As the term suggests, continuous home care is provided when patients need ongoing care for at least 8 hours in a 24-hour window to address potential crises and more severe symptoms. For this level, a nurse or hospice care worker will accompany the patient at home to help them treat moderate to severe symptoms and side effects.
While continuous care can be provided at home, it can also be offered in a nursing facility to ensure patients truly get round-the-clock assistance. Some of the symptoms that necessitate this level of support include:
Nausea and vomiting
Severe anxiety and panic attacks
Severe pain
Difficulties in breathing
H3 - General Inpatient Care Hospice Level
For cases where patients' short-term symptoms can no longer be managed at home, general inpatient care is advisable to help patients get treated at an inpatient facility. This level usually entails a temporary stay to ensure that nurses and other medical staff can provide 24/7 monitoring and assistance whenever necessary.
Most of the time, the symptoms requiring general inpatient care may be similar to those for continuous home care. In some cases, it may be advised for patients to stay in a hospice facility to have ready access to equipment and medication. In other cases, patients themselves prefer to get inpatient care for convenience and reliability.
Respite Care for Hospice Caregivers
Respite care is an option provided to patients whose family or caregiver needs a break and is unable to provide assistance for certain reasons. Under this arrangement, a patient can occasionally stay in an inpatient facility for up to five days to give unpaid caregivers a short break to rest. After this period, your loved one will be discharged and can return home.
These four levels of hospice care are made to ensure that patients are all given the best accommodations to keep them comfortable. In deciding the level needed by a patient, physicians will usually examine their medical needs, ask about the patient's and family's preferences, and determine the care they are able to receive at home or in a facility.
What Services Does Hospice Home Care Cover?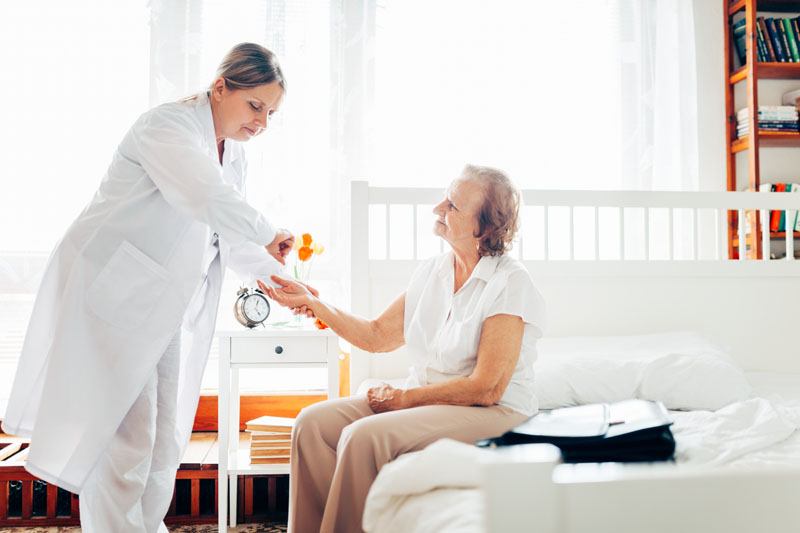 Hospice home care includes many services that allow patients to be cared for from the comforts of their homes. Generally, the way it works is you get access to a wide range of support services to ensure you get holistic care even if you do not stay in a hospital or nursing facility.
Coordination and Communication.
Hospice facilities help manage conversations with patients and families to coordinate the care instructions. Nurses usually serve as the bridge, holding meetings to encourage everyone to share their thoughts and feelings and align information regarding the hospice care plan. These also allow families to manage their expectations as they learn about the prospects of their loved ones and how the disease is anticipated to progress.
End of life care can be an emotionally distressing topic for many family members. Thus, psychosocial support is usually offered to patients, along with their caregivers and loved ones, to aid everyone through the difficult times. Hospice care teams will help you develop coping mechanisms and learn how to manage the overwhelming emotions you might be feeling.
Spiritual care is another important aspect of hospice care. Families all have different perspectives and ideas about death, so hospice facilities assist them in dealing with the transition. If you have beliefs on specific rituals, ceremonies, or actions performed when a person passes, you can also get help with these arrangements.
Even with Hospice care at home, patients get adequate medical attention and assistance from their team. Depending on the level of hospice care and patient's condition, nurses and hospice aides will conduct regular home visits to take care of patients, assist with hygiene and feeding, and help out with other care activities determined by the plan.
Aside from providing medical care to ease symptoms and side effects, patients can also get nutritional and dietary advice. This way, their caregivers can provide them with the right meals to ensure they still get the nutrients they need.
Hospice facilities will help patients order and procure their medication and medical supplies, and equipment. In some cases, you may also be able to find facilities that loan equipment you need if you are financially constrained.
Dealing with the death of a loved one is no easy feat. When going through such an experience, it is natural to feel grief, bereavement, and loss. While hospice care teams are mostly focused on providing patient care and compassion, they also help families go through the mourning period through counseling, support groups, and other similar services.
Post-Pandemic Hospice Care
Patients who have at most six months to live will be presented with the option to get hospice care. Given the context of the virus and how the world has changed from it, more people have started to consider Hospice care at home for seniors. Hospice utilization reached 51% in 2019, so with people forced to stay at home and limit contact, it is highly likely that this number will rise more in the coming years.
While the pandemic may have caused strains on hospice facilities, many providers have responded by adapting and exploring new opportunities to stay in contact with patients and continue providing the best possible care. Telehealth is perhaps one of the biggest healthcare trends to come out of the pandemic, so many hospice and palliative care facilities began integrating this into their services.
In an effort to adapt to the new normal, several palliative care facilities transitioned into the online space and offered virtual appointments. Similarly, more and more hospice providers are branching out to include palliative care and other services that are not just focused on the last six months of a patient's life. The idea is to create a more comprehensive chronic illness management program to address patients' care needs from diagnosis to end-of-life.
If you have a family member who is terminally ill and only has a few months to live, it is high time to consider hospice care, whether that be Hospice care at home or a Hospice care facility will depend on the patient's status. The holistic nature of the program ensures that hospice patients live as comfortably and fully as possible, even in their last moments in life. With the right hospice partner provider and a dedicated team to help out, you can be assured that your loved ones will receive the care that they deserve and live out their last days at ease.
How Can I Find Hospice Care Near Me?
While there are quite a few good search sites available, the absolute best tool to find Hosice Care near you is to look right here on Senioridy's search platform. You can use our map-based search to locate an In-Home ospice Care Provider near you or you can visit our listing page and filter out the ones that best fit your needs. Remember, on Senioridy you can compare, save, and share your selections with those other decision makers in your family so that everyone agrees on the selection that has been made. Then, just reach out directly to that hospice provider by tapping the phone number or by sending them an inquiry. All calls and inquiries go straight to that assisted living facility with no cost to you for reaching out.
Search for a Hospice Provider Near You
By accepting you will be accessing a service provided by a third-party external to https://www.senioridy.com/