In-Home Care Services for Seniors
As a person ages they may feel the need to make adjustments to their living arrangements to address their changing needs. One of the options that is worth exploring is in home senior care, also known as home care services for seniors. Because most older adults prefer aging in place, In-Home senior care services are very popular because they can help those seniors remain at home while still getting the help they need. In-Home care allows an aging person to remain independent and to continue living in their homes with the freedom to come and go as they want. Many families who can't use in-home care or choose not to use it find it necessary to sell the senior's home to pay for the expenses of a senior community. By using in-home care senior providers the senior can keep their family home and the care providers will come to them.
A little known fact about In-Home senior care is that these providers will also provide home care services for seniors who no longer live at home. If an aging person moves into an Independent Senior Living community, also known as an active senior retirement community, or is living in a senior apartment or even staying with a friend or family, in-home care can be administered wherever the senior resides. Keep in mind that, although technically you can pay to have in-home care provided for a senior who is living in Assisted Living or a Long Term Skilled Nursing Facility (Nursing Home) many of the services you would be paying for would already be provided by these facilities so you may be paying for services already being rendered, thus making it a very expensive additional level of care. In-home care is ideally provided for in a senior's home or within a senior independent living community.
In-home senior care is a great choice for aging seniors who need some assistance but prefer not to move or to live in a senior community. As its name suggests, in-home care refers to services provided in a senior's home to make their life safer, more comfortable, and less tedious. Aside from the benefit of receiving care from home, it can also give family caregivers respite while still having the peace of mind, knowing that their loved one is safe.
Similar to how there are plenty of retirement communities to choose from, there is also a wide range of home care providers and services to choose from. Understanding each of those services will help to ensure that you get the assistance that is needed.
In this guide we are going to cover the following topics, if you are looking for a specific subject, please click on the title of the section below to go directly to that specific section:
What is In-Home Senior Care?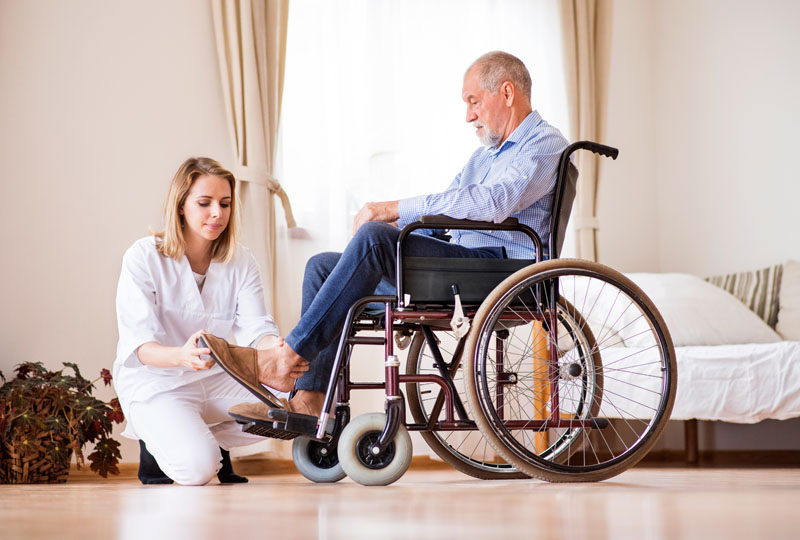 In-home care services for seniors generally consist of non-medical assistance and caregiving to help aging adults with a variety of tasks. The extent of care and nature of services are usually tailored to the senior's needs to ensure that they can comfortably live at home. This way, you can rest well, knowing that your loved one is getting the right and appropriate care and assistance.
Read on to know more about the types of in-home care services, costs to expect, and places to find a reputable provider. Understanding the different care types can help you to select the best fit for your particular situation.
The Types of Senior Home Care Service
There are two main types of Senior home care services: Companion care and Personal care. Check out the differences between the two to learn more about what is best for your loved one.
Companion Care
For companion care, a home aide will help out with instrumental activities of daily living (IADLs). This is ideal for seniors who are still living independently and doing things on their own, but may need assistance with home maintenance, chores, and reminders. The home aide may also act as a companion,hence the term companion care,to spend time with the elder and keep them busy.
Companion care may also be suitable for seniors who are experiencing some memory impairment..
Often times seniors will reside within a family member's home, particularly when there are memory issues. It is not uncommon for a family to hire in-home care so that they can continue to meet their own family obligations - going to work and raising growing children - while providing the in-home help needed to manage the elderly parent.
Personal Care
Personal care services, on the other hand, are more extensive and personalized. They include assistance for activities of daily living (ADLs), thus being suitable for seniors who need additional help with daily tasks like toileting, eating, and help getting around. Caregivers can keep your loved one safe and comfortable, but like companion care aides, they are not licensed to administer medicine and can only help with managing this.
Family caregivers can seek personal care for their senior relative if they are looking for a respite or will be out of the house for some time. Likewise, it is also suitable for families who are unable to perform the tasks on their own.
Home Health Care
Home health care is a different type of in-home care since home health care caregivers are licensed to carry out medical services for seniors. In most cases, this may be recommended by a doctor based on their assessment of your loved one's health. It could involve regular services like injections, therapy, or infusions, or be more of a short-term arrangement whenever the need arises.
Home health care services are similar to what you would find in a nursing home, but as the name suggests, they are designed to be done in a client's home.
Read a full description of Home Health Medical Care for Seniors here.
What Are Activities of Daily Living?
Activities of daily living (ADL) include the basic and routine tasks that people must do daily for basic functioning. How a person performs with these activities is usually a good indicator of the type of care plan that will be suitable for them. Typically, if a senior is unable to perform most of their ADLs they would be advised to enter a nursing home or assisted living facility. For in-home senior care arrangements, this type of assistance would fall under the personal care plan.
The six main ADLs include:
Dressing
Eating
Bathing
Ambulating (Mobility)
Continence
Personal Hygiene
What Are Instrumental Activities of Daily Living?
Instrumental activities of daily living (IADL), on the other hand, refer to activities needed for an individual to live independently. They are not necessarily essential to live functionally, but they can improve the quality of your life. As mentioned above, companion care encompasses assistance for IADLs to aid seniors and give them an easier time at home.
IADLs can range in variety, but the main activities include:
Housekeeping
Meal planning, preparation, and cleaning
Laundry
Shopping and errands
Medication reminders
Transportation
Companionship and support
General household management
Finance management
If your loved one finds it harder to perform these IADLs on their own, you can help them receive assistance through companion care.
Services Provided by Senior In-home Care
Generally, in-home care services are non-medical and more focused on helping with ADLs or IADLs, as enumerated above. Depending on the senior's needs, a caregiver can be more of a companion, providing services like housekeeping chores, meal preparations, and transportation. In other cases, they can also be more personal and up-close with the assistance, especially for seniors who need help with ADLs like eating, bathing, and dressing.
In-home Care options may vary, but the services all generally include non-medical assistance. Thus, seniors who have specific health needs can get regular home health care services from a licensed professional. These may include home visits from nurses or nurse practitioners to do tests, injections, therapy, or other necessary services.
If your loved one needs round-the-clock care but wants to age at home, live-in care may be something worth exploring. As the term suggests, a live-in caregiver will stay at home with your loved one to assist them with their daily needs and keep them as comfortable as possible. Alternatively, if live-in is not a feasible route, you can also consider hiring two caregivers and scheduling them for opposite shifts.
Who Should Get In-home Senior Care?
Before jumping into any care plan, it is important to gauge whether the arrangement is suitable for your needs, lifestyle, health condition, and general preferences. Aging in place may seem like a good option for many older adults, but it is not necessarily the best for everyone. Given that your decision will impact your senior years in life, it is important to think your choice through.
If you are considering in-home care, the first thing to ask yourself is whether you see yourself staying at home for the long term. Thus, once you are sure that you want to continue to live at home, try to ask yourself these questions:
Are you still in relatively good health that you do not need nursing care?
Do you need help with housekeeping and managing your home?
Do you need assistance with daily tasks?
Are you looking for some companionship from a caregiver?
If you answered yes to all the questions above, you are likely a good fit for in-home senior care. Generally, the main things to consider would be your health condition and lifestyle. If you need round-the-clock care or more amenities, it may be worth considering a nursing home for the former or independent living community for the latter.
What Does In-Home Care Typically Cost?
In-home care service costs can vary depending on what services you need, how frequently you will be getting them, geographic location, and many other factors. Given how unique everyone's situation may be, it is important for agencies or providers to assess the client's needs and create a proper care plan.
The hourly rate for a health aide can range from anywhere between $14 to $40 per hour, with $24 being the median in 2020. This pay structure is common for most agencies and is ideal for seniors who are generally still living independently and just need their caretaker a few hours per day or week. Home care agencies may sometimes designate a minimum number of hours per day, usually two to four, so make sure to look into this before hiring anyone.
On average, the median cost for monthly in-home care is at around $4,481, which is based on 44 hours of care per week. While this is in no way a light expense, it is significantly cheaper than nursing home services, which can reach more than $10,000 per month.
Daily rates, on the other hand, are more applicable for seniors who need more personalized care. The caregiver spends the whole day with the client, so you can expect costs to amount to approximately $200 to $350 a day.
Again, in-home care costs can vary per state. Naturally, it will cost more in areas with higher costs of living. Based on a survey by Genworth Financial, Washington, Minnesota, and California had the most expensive hourly rates of $31.16, $30.75, and $29, respectively. On the other hand, Louisiana, Alabama, and Mississippi had the most affordable rates, with hourly fees of $17, $18, and $19, respectively.
Does Medicare Pay for In-Home Care Services?
Medicare's coverage for In home senior care is dependent on the type of care you are getting and the reason for needing it. Services like physical, occupational, and speech therapy, as well as home health care aides and nursing care are covered short term when they have been prescribed by a physician. Unfortunately, Medicare does not cover the costs of caregivers who assist with IADLs and ADLs if this is the only care service you need.
In short, the costs of non-medical or purely custodial services will usually not be reimbursed. However, there may be slight exceptions to this. For example, Medicare may subsidize the expenses for up to 100 days of custodial care if this is paired with medical care at home.
If your loved one has a long-term insurance policy in place, you can check to see if it covers in-home care. While life insurance is usually intended for beneficiaries, some may also cover for long-term care like in-home care. Most policies have enough coverage to help cover much of the costs, provided that you get services from a licensed agency.
If the senior is a veteran and is eligible for veteran's benefits or is the beneficiary of a veteran's benefits then, in some circumstances, custodial care can be covered by Tricare. Please note that the coverage for services provided for the veteran is much greater than the coverage of services for beneficiaries.
Likewise, if your family is struggling financially or the expenses are piling up quickly, you can try to see if your loved one is eligible for Medicaid. Eligibility will be gauged based on the patient's financial status and need for medical care. However, take note that Medicaid may only cover for home health care and not companion or personal care services in many states.
How Can I Find In-Home Senior Care Near Me?
Not sure where to start seeking Senior home care services for your loved one? Nowadays, the internet has plenty of information that can help you get started. Try searching for home care providers near you to pick out some of the best candidates. Alternatively, you can also check out Senioridy's directory of In-Home Senior Providers, which allows you to filter searches based on your location and the type of care services you are looking for.
Choosing the right in-home care provider is essential to providing the best possible care to your loved one. One of the most important decisions will be choosing between an independent provider or an agency. The latter usually gives you the flexibility to choose from more caregivers and get a substitute if any problems arise with a particular aide while the former tends to be somewhat less expensive.
Should you decide to hire an independent caregiver, for example a senior babysitter you found online, make sure that you do a full background check and get plenty of referrals. It also wouldn't hurt to check to see if they are bonded or insured. If you are going to invite a complete stranger into your home you would want to know that they were trustworthy, reliable, and prepared to be covered in case they cause any damage to to the home or don't care for the senior properly.
Regardless of what you decide on, it is a must to take your time looking through your options before jumping to any conclusion. Check if the provider is licensed and reputable, what services they offer, how much their rates are, and what others say about them. These should give you some ideas on which candidates will be your top picks.
By accepting you will be accessing a service provided by a third-party external to https://www.senioridy.com/