Why Select Assisted Living in Tampa, FL?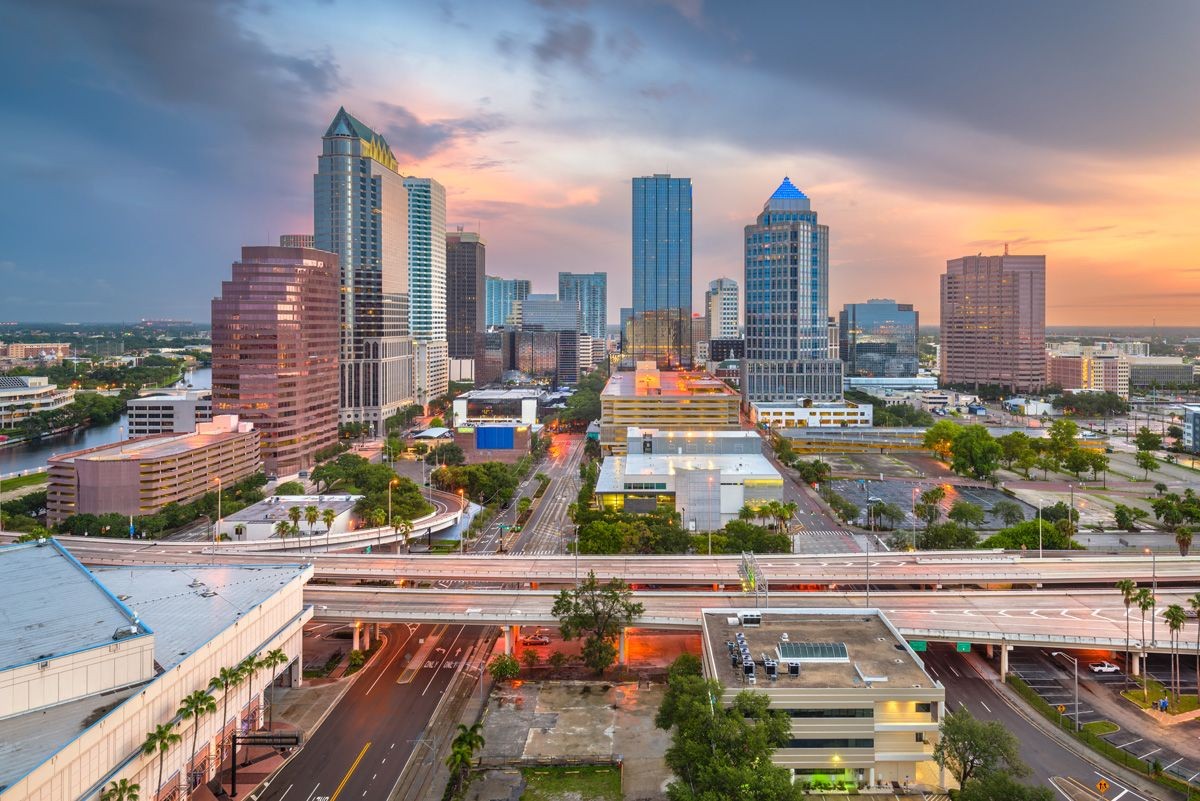 Tampa, Florida is one of the most popular tourist destinations in the United States and for good reason. The city not only has beautiful year-round weather and jaw-dropping scenery, but it also has an overabundance of attractions to keep visitors of all ages happy and satisfied.
But what many people might not realize is that Tampa is also one of the most popular cities to retire to. In fact, the city was ranked in the top 25 on U.S. News & World Report's Best Places to Retire in the U.S. in 2020-21 list.
Tampa is the largest city in Florida's Tampa Bay area, and it is home to the third largest population in the state. It welcomes thousands of seniors from around the country every year, looking to relocate into the city's many nationally recognized assisted living communities.
Tampa is a favorite destination for those looking to find assisted living solutions because the weather here is extremely accommodating to those who are tired of dreary cold winters. In Tampa, the summers are hot and humid, and the winters are pleasant and dry. Tampa's seniors also don't have to worry about having their social security incomes taxed and for many, Medicare helps cover some of their assisted living expenses. So, if you're looking to get the most value out of your retirement income, Florida is one of the best states to choose.
Tampa also has a diverse economy that's fueled by industries such as finance, retail, healthcare, tourism, insurance, and more. It's home to some of the most innovative restaurants in the world, plenty of world-class attractions, and it offers seniors looking to enjoy a wonderful quality of life access to everything they need to stay healthy, happy, and financially secure. With all that working for it, it should come as no surprise that more and more older adults are looking at assisted living in Tampa, FL.
Assisted Living in Tampa, FL: What You Need to Know
Senioridy is a resource you can trust if you're looking to learn more about assisted living facilities in Tampa, FL. Just click on the topics below to get a better idea of what to expect if you are interested in assisted living in Tampa for yourself or a loved one.
What is the Senior Population of Tampa, FL?
As of 2021, Tampa has a population of 394,809 residents. Of that number, 311,204 are adults, with seniors accounting for 50,338 (approximately 12%). The city is a particular favorite for retirees for a variety of reasons, but one of the most common is that Florida is a tax-friendly state for seniors to live in. In Florida, seniors are not taxed for money received from their Social Security benefits, pensions, IRAs, 401(k)s, and other retirement income. There is also no inheritance tax or real estate taxes for families of seniors living in long-term care facilities.
These financial incentives are important because they allow seniors to make the most out of their monthly incomes. And they are a factor in why there is usually a waiting list to get into some of the best assisted living facilities in Tampa.

What is the Average Cost of Assisted Living in Tampa, FL?
The cost of living in Tampa is roughly the same as the national average, but its assisted living costs average around $3,350 per month, which is less than both the state and national averages. Unlike many states, Florida's Medicaid can even pay a fixed daily rate to help cover certain costs associated with assisted living, such as a resident's room, meals, staff care, and medical supplies. Certain restrictions do apply, however.
While Tampa's average cost of assisted living may be lower than in other major cities, it is important to note that these communities vary in the types of amenities they offer to their residents, and these can affect their monthly costs. The more amenities and services a facility offers, the higher its monthly cost will usually be. Common amenities that can affect the total cost of assisted living can include, but are not limited to:
Restaurant-style dining
Private and shared apartments with full kitchens
Housekeeping and linen service
Scheduled transportation
Social, cultural, and recreational activities
Emergency response system
On-call medical staff
What are the Criteria for Admittance into Assisted Living in Florida?
The state of Florida requires assisted living applicants to meet certain criteria before being granted residency. These requirements include:
Must be able to perform ADLs with supervision or assistance
Must not require 24-hour nursing supervision
Must be free of Stage II, III, or IV pressure sores
Must be able to participate in social and leisure activities
Must be ambulatory
Must not display violent behavior or be a danger to self or others
Must have a medical examination from a physician or advanced RN practitioner 60 days before or 30 days after admission
Popular Attractions for Seniors in Tampa, FL
Tampa is one of Florida's most attractive and attraction-filled cities. It literally has something for everyone. For ambulatory seniors who love spending time outdoors, the Booker Creek Preserve offers a beautiful and scenic walk through the natural habitats of Florida's west coast. For those looking to get their blood pumping, spending the day watching the horses race at Tampa Bay Downs is always sure to be a thrill. Meanwhile, the Straz Center is the place to go for those who can't get enough of the performing arts.
Tampa is home endless opportunities for seniors in assisted living to enjoy the city's arts, history, architecture, music, food, and more. Just a few of the attractions that seniors will appreciate include:
Tampa is also one of the nation's up and coming culinary destinations. With a local cuisine specializing in fine dining, seafood, and Cuban and Spanish specialties, there's no shortage of delicious ways to spend an afternoon or evening out.
What are the Benefits of Assisted Living in Tampa, FL?
The assisted living facilities in Tampa offer services that can be customized to meet the resident's needs, so they can provide each resident with everything they need to enjoy their highest quality of life. While each facility is unique in the programs and services it offers, most provide a standard set of services that allow residents to enjoy certain freedoms and experiences, such as:
Comfortable, Home-Like Settings
Assisted living facilities in Tampa typically offer both furnished and unfurnished apartments. And residents are usually free to decorate their living spaces as they wish. This is an important component because it allows a senior to make their new apartment feel like home. They can enjoy all the comforts of home without the responsibilities that come with traditional homeownership, like doing lawn work, making repairs, maintaining the home, cooking, cleaning, and performing other tedious or physically demanding tasks.
Personalized Care
The hallmark of any assisted living facility is its ability to provide a customized level of care that is designed to satisfy every resident's unique healthcare needs and personal preferences. Personalized care can include anything from 24/7 nursing care and medication administration to comprehensive monitoring for mood and behavioral issues. Assisted living staff are experts at providing every resident with the support they need, so they can live their best life.
Hands-On Assistance with Daily Living Tasks
In an assisted living facility, different residents have different needs. Whereas some may only need a little assistance with certain tasks, others may need extra help completing their ADLs. Whether a resident needs assistance with housekeeping, transportation, bathing, dressing, hygiene, laundry, or any other task, the facility's staff provides respectful, hands-on assistance that protects the resident's dignity.
Safety and Security
Safety and security are always important considerations when choosing an assisted living community. Having advanced safety measures in place not only put the minds of family members at ease, but they also reduce the risk of something happening to their residents. When someone reaches the point in their lives where they require help with their ADLs or they're prone to wander, there is nowhere safer for them to be than in a safe and secure assisted living facility.
Access to Quality Healthcare
Assisted living facilities in Tampa offer their residents easy access to high quality healthcare services, both on-site and when necessary, at local hospitals and other types of healthcare facilities. Tampa is home to several nationally recognized hospitals and healthcare systems, including Tampa General Hospital, Morton Plant Hospital, H. Lee Moffitt Cancer Center and Research Institute, and others.
Engaging Social Activities
Participating in social activities helps older adults stay as active and engaged as possible despite their limitations. From dance classes, book clubs, and pottery to gardening and daytime excursions, every assisted living facility has a broad list of activities for residents to choose from. Residents are encouraged to participate in these activities because being social within the community helps prevent depression and feelings of isolation and greatly improves every resident's quality of life.
Quality Nutrition and Dining Options
A proper diet and good nutrition are essential for ensuring that assisted living residents stay healthy for as long as possible. As a result, most facilities in Tampa offer their residents a wide range of dining options. From flexible mealtimes and greater meal variety to diet-specific meals, and more, every resident enjoys high quality meals comparable to some of the area's best restaurants.
Public Transportation Services for Seniors in Tampa, FL
Having access to public transportation is important for seniors living in assisted living communities in Tampa. In the Tampa Bay area, this is provided by HART and The Tampa Bay Area Regional Transit Authority (TBARTA).
Passengers who are age 65 and older can ride Tampa's public transportation services for reduced fare with a Senior Permit. Permits are only available at either the Marion Transit Center or the University Area Transit Center.
List of Senior Centers in the Tampa Area
The Tampa area is home to several senior centers where older adults can enjoy easy access to a wide variety of beneficial programs and services. The following is a list of senior centers in Hillsborough County:

How to Find Assisted Living Facilities in Tampa, FL
Whether you are looking for an assisted living facility for yourself or a loved one, there are a few options available to you that can help you find the right one for your needs in Tampa, FL. One option is to do it the old-fashioned way by looking in the phone book or inquiring about assisted living from your friends and relatives.
Another is to contact a placement agency. Senior placement agencies help seniors find the right assisted living facility for them by working with the senior and their family to find the best possible fit for their needs. These types of services typically charge a referral fee to the Assisted Living community since they are bringing in revenue to that facility, so they don't usually charge seniors or their families. It is important to note that since agents can only get paid by assisted living facilities that they have contracts with, you may not be shown all the assisted living facilities that are available to you.
Another option is to do use an online directory of assisted living facilities in Tampa, Florida from a site like Senioridy.com. Senioridy's search tools are comprehensive, so they can provide you with the best possible results. Just go here to find Assisted Living Communities in Tampa, FL.
By accepting you will be accessing a service provided by a third-party external to https://www.senioridy.com/