Affordable Senior Housing in St. Petersburg, Florida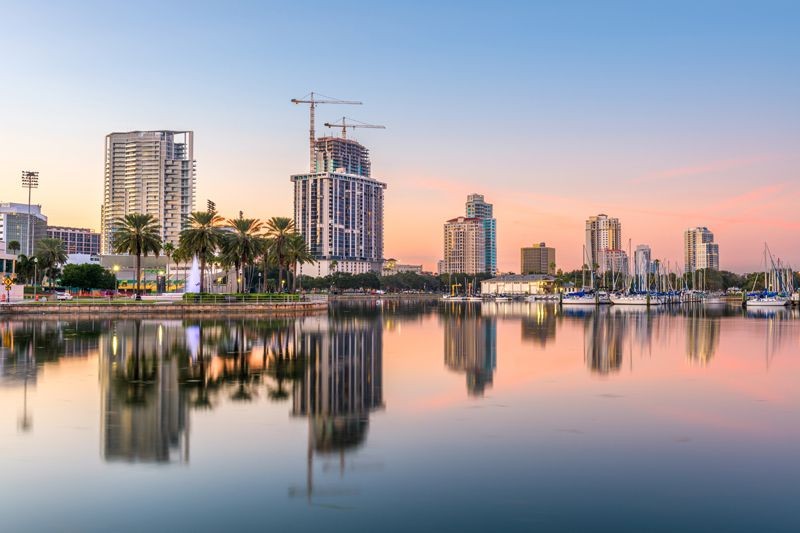 St. Petersburg Florida, also known as "St. Pete", is a classic destination that offers the perfect combination of pristine beaches, warm weather, and the big city amenities to make residents' life comfortable and enjoyable. It is also nicknamed 'The Sunshine City' for holding a Guinness World Record of having the 'most consecutive days of sunshine.'
Adults living in St. Pete can enjoy various activities, including walks at local parks, sunbathing at beaches, and strolls through museums. The culinary scene is also top-rated, with plenty of fine dining options, beachy cafes, and affordable street delicacies.
But what attracts senior citizens the most to its area is the affordability of living in St. Petersburg, Fl. In fact, the cost of living here is 7% and healthcare is 2% lower than the national average. Plus, Florida is a state with no tax on income. That means adult residents of the city will not have to pay tax on Social Security, pensions, or any other income. And if any senior resident is struggling with finances, the city boasts a number of affordable housing communities in the St. Petersburg area.
In this article, let's learn more about St. Petersburg low income senior housing programs and how to find one.
Why Seniors Choose St. Pete Subsidized Senior Housing Programs?
As the name suggests, these housing programs offer discounted rent to eligible participants.
Since many senior citizens live on a fixed income, despite the changing economy, these housing programs allow them to stretch their funds further without compromising their comfort and security.
Another benefit of low income housing programs is living within a community. Each resident participating in any of the affordable housing programs will have their own apartment with a kitchen. In addition, activities are usually available within in each housing community for socialization opportunities that promote interaction between the tenants.
These programs are hosted by different government and non-profit agencies. The most prominent ones offering affordable housing services in St. Petersburg, Florida, include:
St. Petersburg Housing Authority
Section 202 Subsidized Housing for the Elderly
Housing Voucher Program
Low Income Housing Tax Credit
Qualifying for Low Income Senior Apartments in St. Petersburg, Florida
Each of the affordable housing programs mentioned above has varying features and regulations. Some may be open exclusively for senior citizens while others are available to anyone in the general public with a low income. In almost all cases, the applicants' income determines the eligibility for receiving assistance and determines the cost of rent.
In St. Petersburg, FL, the median income is set at $72,700. For a household size of 1 person, $41,350 is considered to be on the highest side of low income. Most senior residents won't be able to make more than $32,020 and, in many cases, no more than $25,850 to qualify for a senior low income housing program.
Here is a brief overview of the programs offered in St. Petersburg, FL.
St. Petersburg Housing Authority
The St. Petersburg Housing Authority (SPHA) operates 2 affordable housing developments in the city. The rents for these programs are set below the market rate but allowable incomes are generally higher than traditional low income units. They are open to the general public, who earn 80% - 140% of the area's average income. However, elderly, disabled individuals, veterans, and victims of domestic violence are often given priority.
Due to the influx of applicants, SPHA pauses the process of accepting applications from time to time. Those interested in securing a spot with the SPHA should visit their website regularly for updates on opening. It is also a good idea to apply for other low income housing programs to improve your chances of receiving assistance in a timely manner.
Section 202 Affordable Senior Housing for the Elderly
The Section 202 Supportive Housing program is managed by the U.S. Department of Housing and Urban Development (HUD). Most people refer to this as Section 8 Senior Housing, since it is a branch off of the Section 8 Program. Through this program, HUD provides funding assistance for the construction and management of units for very low income earning elderly. Part of the rent is paid by the elderly tenant, which is usually about 30% of their income the rest of the rent is paid by HUD directly to the unit's owner. These subsidized rents allow unit owners to be able to afford to offer their community's apartments at a much lower cost to the tenant.
These St. Petersburg low cost senior housing units are designed specifically with the elders' needs in mind. While each tenant is offered their own independent apartment, community programs and assistance are available to help the aging tenants with benefits assistance, training programs, and social activities.
In order to apply at one of these units tenants can call the apartment manager to arrange an application appointment.
Visit the HUD website for more details about the program. You can also seek assistance from the Senioridy directory and find available Section 202 apartments for seniors in St. Petersburg, FL.
Housing Choice Voucher Program for St. Petersburg Seniors
The Housing Choice Voucher program, originally known as Section 8 housing, is another program funded by HUD. With the help of this program, families and individuals earning up to 50% of the AMI can earn rental assistance.
As the name implies, the rental aid is served in the form of vouchers. The qualifying owners of these vouchers can choose the unit from any private real estate market as long as the property stands up to HUD's standards and as long as the property owner will accept the voucher. However, the voucher holder must find the apartment promptly, as these vouchers must be used within 60-days of acceptance.
Similar to the Public Housing Authority's SPHA units, the waiting list for this program is opened on an availability basis only. Check the website of SPHA to find out about the availability of housing vouchers in that area.
If you have been awarded a housing voucher you can contact the SPHA once you are successful in finding an apartment that accepts Section 8 Housing Vouchers. They will inspect the home to ensure the fairness of the requested rent before the tenants are allowed to move in. And regardless of the overall rent that the landlord charges, the tenants will only be required to pay about 30% of their income toward rent. The remaining portion of rent that is due will be covered by the voucher.
Low Income Housing Tax Credit (LIHTC) in St. Petersburg
The LIHTC is initiated by the federal government, where they award tax credits to private developers for the construction of St. Pete low income senior living apartments. The housing units are open to everyone who earns 60% or less of the area's Average Monthly Income (this is known as AMI). However, many developers will set aside a specific number of units or even an entire property exclusively for senior citizens over the age of 55 with limited earnings.
The biggest advantage LIHTC has over other affordable senior housing programs is its availability. Since funding for the LIHTC is more abundant, their supply is also somewhat more plentiful. But note that the rent for LIHTC is not income-based. Instead, within a complex all one bedroom units will be charged a set price, all two bedroom units will be set another price and so on. So all units will have a set rent based on the number of bedrooms that they have.
Keep in mind though, not all LIHTC units will work well for the elderly since most LIHTC apartments are multifamily units. You will find that most LIHTC apartment complexes have two or three story buildings with stairs. So, it is very important to physically drive to and look around the units before applying.
In order to apply you will need to reach out to the apartment manager to pick up an application. Be sure to ask what qualifications are needed before you apply. Most management companies will charge you a non-refundable application fee to apply.
How is my Eligibility Determined?
In general, the eligibility for all senior housing programs in St. Petersburg is decided by the applicant's income. During the application process, unit managers will collect different information to assess your income, prior rental history, criminal records, and family composition. You may also be required to show proof of U.S. citizenship for eligibility.
Once your application is approved, the staff will put you on a waiting list unless they can provide you with a unit with immediate availability. To speed up the qualifying process, you must provide them with all the accurate information in your application. You must also notify the agency of any changes in your income and housing requirements while you are on the waiting list to ensure that you still qualify.
Fixed Income Senior Apartment Application Tips
Almost all of these housing options will require application fees. While we highly recommend that you apply to as many as possible in the area that you are interested in, we also recommend that you only apply as you can afford to do so. In some cases, you may find that your budget only allows you to apply to one new apartment complex or program per month.
As you apply, make sure to check on the applications that you've already submitted to see how close to the top you are on each waiting list. If you're close to the top of a waiting list you may want to hold off applying at more places.
Always make sure to keep a current list of all of the places that you have applied so you can remember where to call to check on your application status.
Frequently Asked Questions About Living in Florida
St. Petersburg is a very senior-friendly city and is home to over 48,000 seniors. Many elderly residents also choose to relocate here to enjoy a relaxed life. If you are also planning the same, here are some common questions that may be on your mind.
Q1. What are the medical facilities in St. Petersburg?
Adequate health care is imperative for senior citizens. There are at least three major hospitals in the city and specialists in every niche to meet these needs. Assisted care facilities, nursing homes, and senior home care is also available for physically challenged elderly.
Q2. What should I do about transportation in St. Petersburg?
St. Petersburg, Florida, is pedestrian-friendly for all residents. The Pinellas Suncoast Transit Authority provides bus service all over the city, with discounted rates for seniors and the disabled.
Q3. Is St. Petersburg a safe place to live?
Compared to other Florida cities, St. Pete is considered very safe.
Q4. Can I keep a dog in St. Pete, FL?
St. Petersburg is one of the most dog-friendly cities in America, where animal companions are welcome at numerous venues. However, do check with your low income housing unit in St. Pete before keeping pets in your home.
How to Find St. Petersburg Low Income Senior Living Near Me?
'How to find fixed-income senior living near me?' is the most basic question people ask themselves when trying to find senior apartments quickly on a budget.
The answer varies from individual to individual according to the abilities and financial condition of the residents. While some seniors prefer to stay in their family homes, many choose to downsize and move to smaller units as they struggle with maintenance and accessibility issues.
But finding affordable senior apartments in St. Petersburg is something that can be done easily if you are persistent with your phone calls and keep a call log so you know who and when you've called.
To search for suitable St. Petersburg low income apartments, senior citizens can use Senioridy to locate a wide variety of affordable senior living options. Using Senioridy, you can easily locate the housing unit in your preferred area. It will also help you narrow down your choices, contact the relevant providers, and make the selection that best fits your lifestyle and budget. Good luck!
By accepting you will be accessing a service provided by a third-party external to https://www.senioridy.com/