Why Select Assisted Living in Dallas, TX?
Or perhaps the real question should be – why wouldn't you want to select Assisted Living in Dallas?Dallas is a city that attracts a high number of young professionals for a range of reasons that are important to them, but believe it or not, it's equally attractive to senior citizens. In fact, it's especiallyattractive to those looking for Assisted Living communities, and with more than 260 such facilities in Dallas County, there's a lot of them to compare!
Dallas is a city that revels in its prominence. It's a modern metropolis that serves as the region's commercial and cultural center. So, it should come as no surprise that it is regularly considered one of the best places to live in the state. Adding to the allure of this Lone Star State diamond is the fact that it has a low cost of living, plenty of wide-open spaces, a well-educated population, and no shortage of senior-friendly attractions and resources.
Dallas is also one of the country's biggest sports towns, as well as being home to one of the hottest culinary scenes. It boastsan enriching arts and culture scene, a wealth of diverse shopping experiences, and more. As the city's population continues to age, Dallas is also well equipped with a variety of senior living community options that will help older adults feel safe and supported throughout their later years of life.
If you're thinking aboutAssisted Living in Dallas for yourself or a loved one, then you will find an abundance of options available for you to consider. And at Senioridy.com, we recommend taking your time to thoroughly compare the facilities you're most interested in, so you can find the right one for your unique needs.
Want to learn more about assisted living in Dallas, TX? This guide from Senioridy is the perfect place to start.
Assisted Living in Dallas, TX: What You Need to Know
With itslenient tax laws, abundance of sun-drenched days, and incredible selection ofAssisted Living facilities and senior services, it's no wonder why so many seniors turn to Dallas for the next logical phase in their lives. If you're lookingto learn more about what to expect fromthe city's Assisted Living communities, then Senioridy is here to help. Just click on the topics below to learn moreabout them.
Senior Population and Assisted Living Volume in Dallas, TX
In 2020, Dallas reported a population of approximately 1.3 million residents.Seniors aged 65 and over accounted for 10.6 percent of the population. While Dallas is home to a largely young population, it is highly attractive to seniors looking for Assisted Living. And with 121 Assisted Living facilities in the city of Dallas alone (229 in Dallas County), there are plenty of options available to seniors.
Seniors find Dallas irresistible for several reasons. From its warm temperatures and nationally recognized healthcare to its incredible selection of senior-friendly attractions and robust senior services, there's so much to the city that makes it an ideal place to live for older adults. As you might expect, this can also mean that there might be a waiting list to get into some of the best Assisted Living facilities in Dallas.
Dallas also offers a variety of free and low-cost senior resources that can help you in your Assisted Living journey, including:
Dallas County Veterans Services
Criteria for Admittance in Assisted Living in Texas
To become an Assisted Living residentinthe state of Texas, an individual needs to meet certain admission requirements. Along with being at least 65 years old, they must have medical needs that do not exceed the capabilities of the facility's staff (unless that resident is covered by a licensed home health agency).
Home health agencies can be hired by Assisted Living residents who have greater care needs, although there are limitations. For example, a senior cannot be admitted to an Assisted Living facility in Texas if they are permanently bedridden.
To better provide for the needs of its seniors, Texas separates their Assisted Living facilities into two categories – Type A facilities and Type B facilities.
Type A facilities are designed to admit seniors who:
Can demonstrate the ability to evacuate the facility unassisted in the event of an emergency
Do not require routine attendance during sleeping hours
Are mentally capable of following directions
Type B facilities are designed to admit seniors who:
Suffer from dementia or Alzheimer's disease
Are not permanently bedridden, but may require assistance getting in and out of bed
May require staff assistance to evacuate in emergency situations
May be incapable of following directions in emergency situations
May require assistance during sleeping hours
Typical Costs of Assisted Living in Dallas, TX
Theaverage monthly cost for Assisted Livingin Dallas is $4,195per month, which is slightly more than the state average of $3,998 but nearly $300 less than the national average. It's also roughly $1,500 less per month than the cost of a semiprivate room in a nursing home in Dallas, TX. Texas is a state that doesn't have an income tax, so while the cost of Assisted Living might be considered high by some standards, seniors don't have to worry about losing any of their dollars to state taxes, and that can ultimately make living in Dallas more affordable for most compared to other major cities in the U.S.
Financial assistance is available for those who need it through the state's STAR+PLUS Medicaid managed care program, which is designed specifically for adults who have disabilities or are age 65 or older. Adults in STAR+PLUS get Medicaid healthcare and long-term services and support through their selected health plan. Veterans may also be eligible for one of several different pension programs from the VAto help cover some of the costs associated withAssisted Living.
It is important to note that the monthly cost mentioned above is just an average. Assisted Living in Dallas maycost more or less than that amount every month with some costing as low as $2,680 per month and some as high as $7,103 per month. Price ultimately often depends on the programs, amenities, and services a facility has tooffer. For instance, amenities that can impact the cost of Assisted Living can include, but are not limited to:
Restaurant-style dining
Pet-friendly accommodations
Private and shared apartments with full kitchens
Housekeeping and linen service
Scheduled transportation
Social, cultural, and recreational activities
Emergency response system
On-call medical staff
It is also important to remember thatan affordable Assisted Living facility may not be any more or less effective or beneficial than a more expensive facility.It is always recommended tothoroughly compare severaldifferent facilities, so you can find the one that best meets your needs and budget.
Benefits of Assisted Living in Dallas, TX
Moving a loved one into Assisted Living isn't an easy decision to make, but many of the fears and concerns can be alleviated when you take a closer look at the ways that Living in one of these facilities can improve your loved one's life. In Dallas, Assisted Living facilities provide a wealth of benefits that can have an immediate effect on your loved one's quality of life and state of mind.These benefits include:
Daily Hands-On Assistance When Needed
The most common reason why someone moves into Assisted Living is because they can no longer perform certain tasks independently. This can include anything from practicing proper hygiene to doing basic housekeeping chores around the house. In an Assisted Living facility, highly trained, compassionate staffare always on hand to provide residents with professional and respectful, hands-on assistance regardless of how much, or little, support they require.
Improved Safety and Security
The safety and security of its residents is a primary focus for every Assisted Living facility. Once an individual reaches the point in their life where they are no longer able to live entirely independently or they become prone to wander, there's no safer place for them to be than in a highly secure Assisted Living facility.
Personalized Care
Assisted Living facilities are staffed by skilled healthcare professionals and compassionate support staff. This allows every resident to receive a continuum of care that can satisfy their unique health and wellness needs and their personal preferences. Assisted Living staff are highly trained to provide every resident withthe high-quality care and support they need to live healthy and active lives.
Easy Access to Quality Healthcare
Seniors in Assisted Living can have their everyday medical needs met on-site but in the event they require more substantive healthcare, then they have plenty of nationally recognized hospitals in Dallas where they can get the care they need. Some of the top hospitals in Dallas includeUT Southwestern Medical Center, Baylor University Medical Center, and Parkland Health-Dallas, to name just a few.
ApartmentsThat Feel Like Home
One way that Assisted Living facilities help new residents adjust to their new living space is by allowing them to furnish and decorate their apartments, so they feel more like home. When seniors are surrounded by the things they love and are used to, they can make the transition to Assisted Living much quicker and smoother.
Warm Climate
Dallas enjoys a humid subtropical climate that allows seniors ample opportunities for spending time outdoors, regardless of the time of year. Summers in Dallas are typically hot and humid while the winters are generally mild with nighttime temperatures rarely falling below freezing. The weather in Dallas is easy on seniors, especially those that live with conditions that can be worsened by cold, wet weather, like arthritis.
Social Activities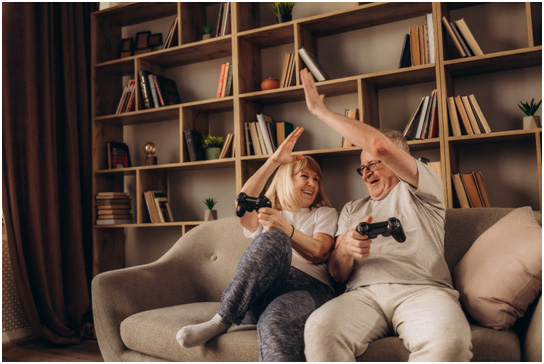 Assisted Living communities provide an endless calendar of social activities for their residents because these activities not only keep them active and socially engaged, but they're also instrumental in helping new residents make friends. In fact, participating in these activities has been shown to help reduce the risk of depression and feelings of isolation in new residents.
Quality Nutrition
One of the biggest problems facing seniors who live on their own face is the fact that they rarely get the nutrition their bodies need, and this can cause them to suffer from a wide range of avoidable health problems. This is why nutrition plays such an important role in the services provided by Assisted Living facilities. In an Assisted Living facility, a senior can enjoy delicious and healthy meals, including diet-specific meals, created for them by highly trained nutritionists and culinary professionals.
Quality of Life in Dallas, TX
Living in Dallas places you in a city that is filled with opportunities for enjoying the best things in life. From its incredible arts and culture scene and thrilling sporting eventsto its myriad of museums, diverse culinary scene, and gorgeous parks, you will find something new to experience and enjoy every time you leave your Assisted Living community for a day out.
Some of the most popular attractions among seniors in Dallas include the Dallas Arboretum and Botanical Garden, the Dallas Zoo, the Dallas World Aquarium, and Reunion Tower, the Nasher Sculpture Center, and the Dallas Contemporary. You'll also find some of the world's best performing arts in the city in legendary venues like the Winspear Opera House, Wyly Theatre, Strauss Square, and Sammons Park.
Dallas also has plenty to keep sports fans satiated all year round with the Rangers (MLB), Cowboys (NFL), Mavericks (NBA), Wings (WNBA), Stars (NHL), and FC Dallas (MLS), all calling the city home.
The Dallas Arts District is where your love for art will no doubt flourish. Some of the places you will probably find yourself wanting to visit again and again include the Dallas Museum of Art, the Crow Museum of Asian Art, the Meadows Museum, the Museum of Geometric and MADI Art, and the Museum of Biblical Art.
While you're visiting some of Dallas' best attractions and sites, you will find it always pays to stop for a bite to eat at any of the city's marvelously inventive restaurants, bistros, or cafes. After all, Dallas is home to the iconic Texas Red chili and arguably the world's best smoked brisket, so those are two dishes that everyone needs to try at least once in their lifetime.
Senior Centers in Dallas County
Seniors living in Dallas County have plenty of opportunities for making new friends, participating in fun programs, and learning new things in the city's many senior centers. These facilities also serve nutritious meals Monday through Friday.
Below is a list of senior centers in Dallas County where you can access a complete calendar of engaging activities and senior-focused services:
Public Transportation Services in Dallas, TX
Public transportation in Dallas is provided by Dallas Area Rapid Transit (DART), which operates an extensive network of transport options, including DART Light Rail, Dallas Streetcars, bus routes, GoLink on-demand services, and paratransit services. DART's coverage encompasses 700 square miles, making it easy for seniors to get around Dallasand 13 surrounding cities.
Seniors aged 65 and over are eligible for reduced fares as long as they have a valid DART-issued photo ID. Senior Reduced Fare GoPass Tap Card ID cards are available at DARTmart, which is located at DART Headquarters at 1401 Pacific (Akard Station). The DARTmart is open Monday through Friday and IDs are made between 8:00 a.m. and 5:00 p.m. only. They can also be obtained online. Seniors must provide proof of age to get a reduced fare DART ID card. DART has also recently introduced annual Senior Passes.
How to Find Assisted Living Facilities in Dallas, TX
Whether you are looking for an assisted living facility for yourself or a loved one, there are a few options available to you that can help you find the right one for your needs in or near Dallas. One option is to do it the old-fashioned way by looking in the phone book or inquiring about assisted living from your friends and relatives.
Another is to contact a placement agency. Senior placement agencies help seniors find the right assisted living facility for them by working with the senior and their family to find the best possible fit for their needs. These types of services typically charge a referral fee to the Assisted Living community since they are bringing in revenue to that facility, so they don't usually charge seniors or their families. It is important to note that since agents can only get paid by assisted living facilities that they have contracts with, you may not be shown all the assisted living facilities that are available to you.
Another option is to use an online directory to search for assisted living facilities in or near Dallas, TX from Senioridy.com. Senioridy's comprehensive assisted living search engine can provide you with the best possible results based on your needs.
Once you do this simple search, you will be presented with many of the top-rated facilities in the Dallas area to compare.
By accepting you will be accessing a service provided by a third-party external to https://www.senioridy.com/