Why Select Assisted Living in Austin, TX?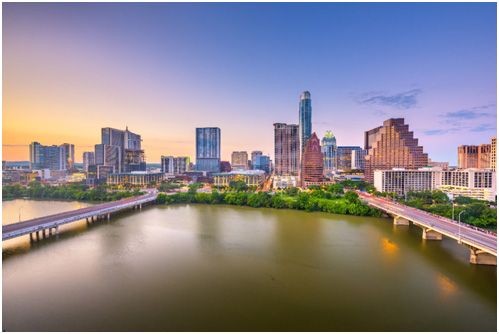 Any search for the best Assisted Living communities should always include Austin, TX because the city is literally heaven for older adults. It's home to over 160 Assisted Living facilities; it enjoys more than 300 sunny days per year; it is chock-full of senior-friendly attractions, and it has no income tax! All things considered, it can be near impossible to find a city with more to offer seniors than Austin.
Austin is the capital city of Texas and the state's fourth most populous city. As such, it has all the modern amenities necessary for allowing seniors to enjoy an optimum quality of life, such as advanced medical services and an outstanding public transportation system. The city also has several excellent senior centers where its older residents can find a treasure trove of programs and services that can add additional value and satisfaction to their lives.
Austin is also a member of the AARP Age-Friendly Network, which means that the city's elected leadership has made a commitment to actively work with residents and local advocates to make Austin an age-friendly place to live. Thanks to this commitment, Austin offers seniors reduced transit fares and access to other key services and opportunities designed to cater to the needs of its older population.
If you're thinking aboutAssisted Living in Austin for yourself or a loved one, then you will find an outstanding selection of options available for you to consider. And at Senioridy.com, we recommend taking your time to thoroughly compare the facilities you're most interested in, so you can find the right one for your unique needs.
Want to learn more about Assisted Living in Austin, TX? This guide from Senioridy is the perfect place to start.
Assisted Living in Austin, TX: What You Need to Know
When you think of Austin, TX, Assisted Living probably isn't the first thing that springs to mind. But if you're a senior who is considering moving into such a community, few places can beat Austin. From its lenient tax laws and senior-friendly weather to its local attractions and culture, Austin has so much to offer older adults who are entering this next phase of their lives. If you're lookingto learn more about what to expect fromthe city's Assisted Living communities, then Senioridy is here to help. Just click on the topics below to learn moreabout Assisted Living in Austin.
Senior Population and Assisted Living Volume in Austin, TX
Austin's population in 2022 was estimated at 976,696, with the number of seniors aged 65 and over being estimated at 90,262.While Austin is home to a sizable young population, it is equally attractive to seniors, especially those looking for high quality, reputable Assisted Living solutions. From its warm and dry climate and outstanding healthcare services to its tax benefits and other financial assistance solutions, Austin is a great place to live if you're an older adult.
As you might expect, Austin's popularity among seniors also means that there might be a waiting list to get into some of the best Assisted Living facilities. Luckily, there are plenty of places to choose from. The Austin area is home to approximately 161 Assisted Living communities. Of these, 125 are listed as Type B facilities and 36 are listed as Type A facilities.
Criteria for Admittance in Assisted Living in Austin, TX
To become an Assisted Living residentinAustin, an individual needs to meet certain admission requirements set by the state of Texas. Along with being at least 65 years old, they must not have medical needs that exceed the capabilities of the facility's staff (unless that resident is covered by a licensed home health agency).
In Texas, home health agencies can be hired by Assisted Living residents who have greater care needs, although there are limitations. For example, a senior cannot be admitted to an Assisted Living facility if they are permanently bedridden.
To better provide for the needs of its seniors, Texas separates their Assisted Living facilities into two categories – Type A facilities and Type B facilities.
Type A facilities are designed to admit seniors who:
Can demonstrate the ability to evacuate the facility unassisted in the event of an emergency
Do not require routine attendance during sleeping hours
Are mentally capable of following directions
Type B facilities are designed to admit seniors who:
Suffer from dementia or Alzheimer's disease
Are not permanently bedridden, but may require assistance getting in and out of bed
May require staff assistance to evacuate in emergency situations
May be incapable of following directions in emergency situations
May require assistance during sleeping hours
Typical Costs of Assisted Living in Austin, TX
Theaverage monthly cost for Assisted Livingin Austin is $5,345 per month, which makes it one of the more expensive cities in the country for Assisted Living services. But the truth is there are several factors that can come into play that can help seniors afford Assisted Living in Austin.
One such factor is the fact that Texas doesn't have an income tax.This means that while the cost of Assisted Living might be considered high by some standards, seniors don't have to worry about losing any of their dollars to state taxes, so more of their money is available for putting toward their living costs. In Texas, Social Security Income (SSI) can also help seniors cover some of their Assisted Living costs.
Further financial assistance is also available for those who need it through the state's STAR+PLUS Medicaid managed care program. This program is designed specifically for adults with disabilities and for those who are age 65 or older. Adults in STAR+PLUS get Medicaid healthcare and long-term services and support through their selected health plan. Veterans may also be eligible for one of several different pension programs from the VAto help cover some of the costs associated withAssisted Living.
It is important to note that the monthly cost mentioned above is just an average. A facility's cost isoften impacted by the programs, amenities, and services it has tooffer. For instance, amenities that can affect the cost of Assisted Living can include, but are not limited to:
Restaurant-style dining
Pet-friendly accommodations
Private and shared apartments with full kitchens
Housekeeping and linen service
Scheduled transportation
Social, cultural, and recreational activities
Emergency response system
On-call medical staff
It is also important to remember thathow much (or little) anAssisted Living facility may not charge is no indicator of howeffective or beneficial it might be.Therefore, it is always recommended tothoroughlycompare severaldifferent facilities, using an online search engine like Senioridy.com, so you can find the one that best meets your needs and budget.
Benefits of Assisted Living in Austin, TX
It's not always an easy decision to move a loved one into Assisted Living, but when you consider all the benefits that await your loved one, a lot of the fears and concerns that you might be facing can be alleviated. In Austin, Assisted Living facilities provide their residents with a wealth of benefits that can have an immediate effect on their quality of life, health, and overall state of mind.These benefits include:
Hands-On Assistance is Always Available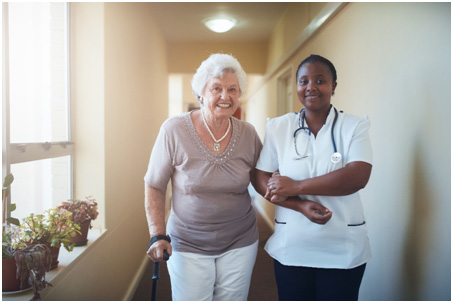 Not every senior who lives in Assisted Living has the same assistance needs. Some may require help completing certain housekeeping tasks where others might need assistance with things like getting dressed or taking a bath. In an Assisted Living facility, highly trained, compassionate staffare always on hand to provide residents with professional and respectful, hands-on assistance regardless of how much, or little, support they require.
Improved Safety and Security
Seniors who live on their own often find themselves at risk of becoming a victim of crime or involved in other dangerous situations. But when a senior moves into Assisted Living, they reside in a facility where the safety and security of its residents is a primary focus. When a senior reaches the point in their life where they are no longer able to live entirely independently or they become prone to wander, there's no safer place for them to be than in an Assisted Living facility.
Quality HealthcareOn-Site & Off
In Assisted Living, seniors are provided with basic healthcare services that can help them maintain their health and wellness. But in the event more comprehensive treatment is needed, Austin has several highly recognized hospitals that can meet just about any medical need, including St. David's Medical Center, Ascension Seton Medical Center, Arise Austin Medical Center, and others.
Social Activities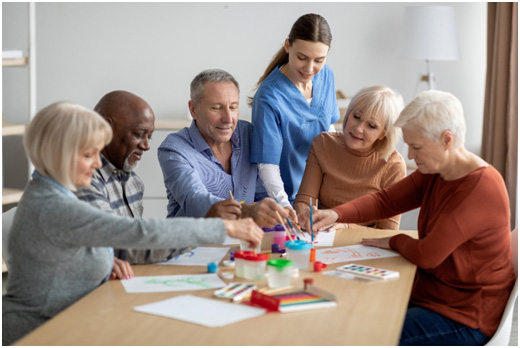 Seniors often suffer from depression and feelings of isolation when they live alone. This is especially the case for those who live longer than their friends and siblings. Moving into Assisted Living provides a senior with an endless calendar of social activities that can help to not only keep them active and socially engaged, but also help them make new friends. Such activities are instrumental in helping seniors find joy in living again.
Quality Nutrition
Seniors who live on their ownoften find their health suffering because they simplydon't get the nutrition their bodies need. They often eat unhealthy meals or forget to eat altogether. This is why so many seniors start feeling much better once they move into Assisted Living. In Assisted Living, quality nutrition isa core concept that can help seniors recover from the damage their poor diets may have caused.
Well-Equipped Apartments
Assisted Living apartments in Austin have just about everything a senior could possibly need to feel right at home. Most feature well-equipped kitchenettes, spacious living spaces, full bathrooms, and even laundry services. And seniors can often furnish and decorate their living spaces as they wish, to create a comfortable environment that feels more like home.
Warm, DryWeather
Austin's climate is characterized by its long, hot, and dry summers, short, mild winters, and warm to hot spring and fall seasons in-between. While it can be considered quite hot in the summer, it is typically ideal for older adults who suffer from ailments that can be worsened by cold, wet weather, like arthritis.
Quality of Life in Austin, TX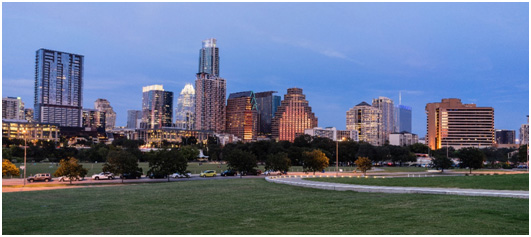 Austin is well-known for its motto, "Keep Austin Weird," and the city's "weirdness" is part of why so many young adults are attracted to it. But don't let that make you think that the city doesn't have anything to offer its older population. From its vibrant arts and culture scene and diversity of museums to its innovative culinary scene and pristine parks, there's always something new and exciting to experience.
Austin is particularly known for its music scene, which has earned it the title of Live Music Capital of the World®. And with over 250 live music venues, ranging in size from coffeehouses to concert halls, there's plenty of choices for the music lover to indulge in their favorite music.
With its more than 300 days of sunshine per year, there's no better place than Austin to enjoy the outdoors. And the city has plenty of lush green spaces where you can find tranquility among nature or simply spend the day bird watching, including Hornsby Bend, the UMLAUF Sculpture Garden and Museum, Commons Ford Ranch Metropolitan Park, and Roy G. Guerrero Colorado River Park, to name just a few.
There's also an abundance of museums in Austin where you can easily lose yourself in among the exhibits. From the delicious (and very pink)Museum of Ice Cream and historic Susanna Dickinson Museum to the visually spellbinding Blanton Museum of Art and the inspirational Elisabet Ney Museum, there's ample opportunities to always be learning while you're touring the town.
If you want to visit someplace special just outside of the city limits, then a trip to Texas Hill Country is a must. Here you'll find rolling rivers, historic towns filled with charming shops, and more than two dozen vineyards peppered across the Texas countryside.
And while you're visiting Austin'sincredible selection of attractions and sites, you will find the city has more than its share of innovative eateries. So, whether you want to dine at a fine restaurant or grab a bite at a quaint bistroor comfy café, whatever you're craving can usually be found nearby, but especially if what you're craving is BBQ, or something you've never imagined possible from one of the city's many fantastic and highly creative food trucks!
Senior Centers & Senior Services in Austin, TX
Senior centers provide valuable services and programs to seniors living in Austin. They offer a variety of educational programs, seminars, presentations, and fairs covering everything from health and finance to gardening and computers. Many also provide daily meals, exercise classes, and even senior trip excursions. These centers provide seniors withplenty of opportunities for having fun, making new friends, and learning new things.
Below is a list of the senior centers in Austin where you can access a complete calendar of engaging activities and senior-focused services:
Austin also offers a variety of free and low-cost senior resources that can help you make the most of your Assisted Living experience, including:
Public Transportation Services in Austin, TX
For seniors in Assisted Living, public transportation is essential because it provides them with a convenient and affordable way to get around the city of Austin. In Austin, public transportation is provided by CapMetro, which operates MetroBus, MetroRapid, MetroRail, and MetroExpress. Paratransit services are also available through the system's MetroAccess demand-response service.
Seniors aged 65 and over are eligible for reduced fares with a CapMetro Reduced Fare ID (RFID) Card. Eligible riders must have their RFID Card with them to receive the reduced fare. Seniors can pick up an application for an RFID card by visiting the Transit Store, or by downloading one from the CapMetro website. Accessible application forms and Spanish versions are also available upon request by calling 512-389-7475, or by sending an email to requestformailouts@capmetro.org.
How to Find Assisted Living Facilities in Austin, TX
Whether you are looking for an Assisted Living facility for yourself or a loved one, there are a few options available to you that can help you find the right one for your needs in or around the Austin area. One option is to do it the old-fashioned way by looking in the phone book or inquiring about Assisted Living from your friends and relatives.
Another is to contact a senior placement agency. Senior placement agencies work with the seniors and their families to help them find the best possible fit for their needs. These types of services typically charge a referral fee to the Assisted Living community since they are bringing in revenue to that facility, so they don't usually charge seniors or their families. It is important to note however, that since senior placement agents only get paid by the Assisted Living facilities that they have contracts with, you may not be shown all the Assisted Living facilities that are available to you in Austin.
Another option is to use Senioridy.com's online directory to search for Assisted Living facilities in or near Austin, TX. Senioridy's comprehensive search engine can provide you with the best possible results based on your needs and budget.
Once you do this simple search, you will be presented with many of the top-rated facilities in the Austin area to compare.
By accepting you will be accessing a service provided by a third-party external to https://www.senioridy.com/