Finding Assisted Living in Mobile, AL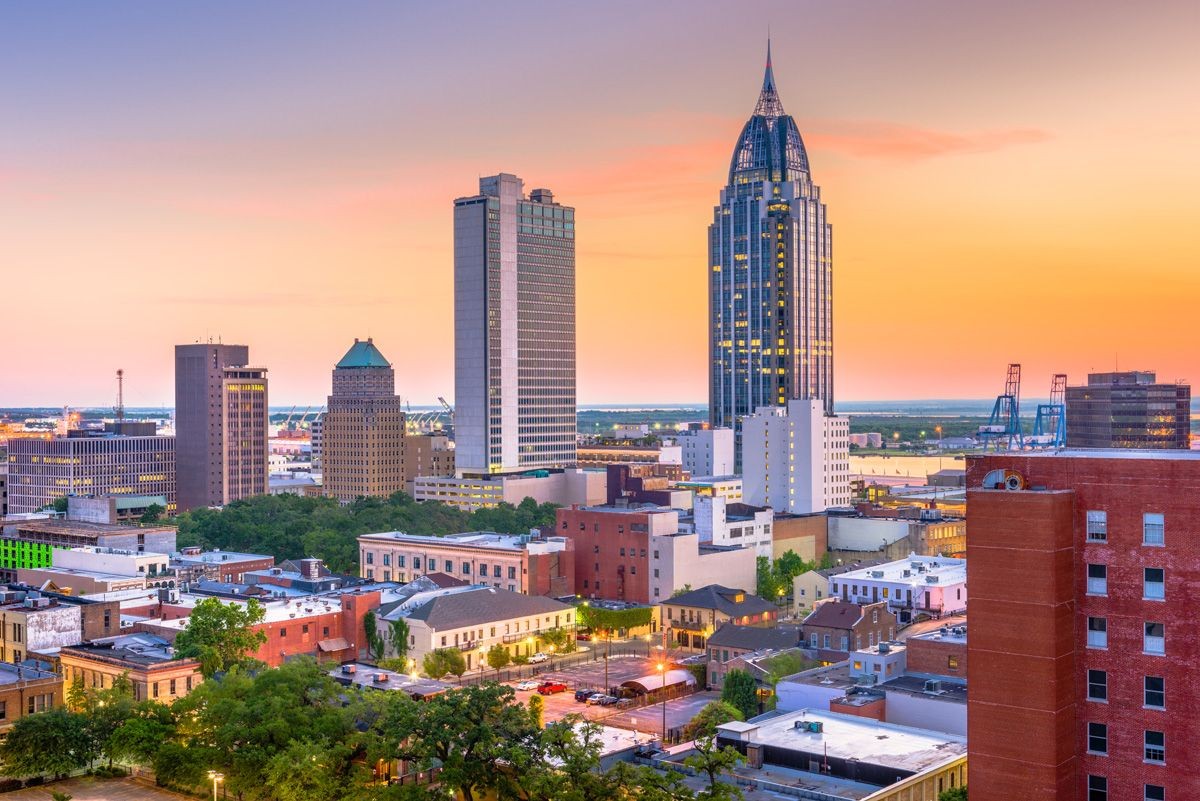 If you are looking for a great city to find assisted living opportunities, then Mobile, Alabama is a great place to start. Mobile is the oldest city in Alabama. It was founded in 1702, a full 117 years before Alabama became a state. In fact, when the city was founded, it stood as the first capital of Louisiana, which belonged to the French at the time. The city wouldn't become a part of the United States until 1813, when it was included in the Mississippi Territory.
Nestled along the Gulf Coast, in particular the Mobile River and its main tributaries the Tombigbee and Alabama Rivers, Mobile made for the ideal trading port. But its growth ultimately stemmed from the fact that the land in and around the rivers proved to be ideal for growing cotton, which at the time was in rare supply in Great Britain due to the Industrial Revolution. As a result, in the 1830s, Mobile's economy was largely fueled by plantations.
With its cotton industry booming, Mobile attracted a larger and more diverse population of merchants, attorneys, doctors, and other professionals looking to capitalize on the market. And as the cotton industry grew, so did the city itself, with the mid-1830s seeing the city's landscape start to change with the building of elaborate structures, many of which have been carefully restored in recent years. By 1850, approximately 10 percent of the city's population was from New York City.
But with the city's economy tied to only one crop, Mobile would suffer through several financial crises. And the ensuing American Civil War would see the city fall into deeper economic depression and municipal insolvency.
At the turn of the 20th century, however; Mobile entered what is known as its Progressive Era. New industries were introduced which helped generate more jobs, diversify the economy, and increase its population. During and after World War I, the city would be a major shipbuilding and steel producing resource for the entire country.
Today, Mobile is a beautiful and engaging city which serves as a regional center for medical care, research, and education. The city is the third largest in the state and home to more than 850 physicians and more than 160 dentists. It is home to the Mobile Museum of Art, which is the largest art museum from New Orleans, LA to Tampa, FL. Mobile is also the 9th largest port in the United States and the 12th busiest, as well as a home port to the Carnival Cruise Lines. And believe it or not, Mobile is the Birthplace of America's Original Mardi Gras.

Assisted Living in Mobile, AL: What You Need to Know
Senioridy is your complete guide to helping you get the most out of your search for assisted living facilities in Mobile, AL. Just click on the topics below to learn more about assisted living in Mobile, AL.
Senior Population and Assisted Living Volume
Mobile is home to more than 195,000 people, with seniors aged 65 or older making up 15.5% of the population, equalling just over 30,000 people. The climate and low cost of living are two primary attractions for seniors interested in Mobile's assisted living facilities. Its climate is mild, with snow-free winters and moderate summers thanks to the sea breezes from the Gulf of Mexico that help counteract the typical southern summer heat. Over the course of the year, the temperature in Mobile typically varies from 42°F to 90°F. It rarely falls below 28°F or rises higher than 95°F.
As for cost of living, with the average cost of living in the US scoring 100, Mobile's cost of living comes in at just 81.9. This makes living in Mobile considerably cheaper than most other major American cities. As a result, it is important to know that there can sometimes be a waiting list to get into some assisted living facilities in Mobile.
Criteria for Admittance
To be admitted to an assisted living facility in Alabama, residents need to meet the following criteria:
Must not receive or require skilled nursing care
Must not have a wound that requires care beyond basic first aid
Must have the ability to make decisions related to personal safety
Must be able to direct his or her care
Must not have behaviors that may be dangerous to themselves or others
Must be able to safely self-manage medications or self-administer medications with assistance
Cannot receive or need hospice services
Must have the ability to safely reside in the facility without his or her egress from the facility being restricted
Each resident must have a medical examination by a physician not more than 30 days prior to entering an assisted living facility and a plan of care developed by the facility in cooperation with the resident and, if appropriate, the sponsor
Must not be diagnosed with acute infectious pulmonary disease, such as influenza, or active tuberculosis, or with other diseases capable of transmission to other individuals through normal person-to-person contact
Typical Costs of Assisted Living in Mobile, AL
The cost for a single bedroom in a Mobile assisted living facility can range anywhere from $2,000 to over $6,000 a month depending on the facility and the services they provide. The average cost of assisted living in the city is $3,424 a month, which is considerably cheaper than the national average of $4,500 per month.
Assisted living communities typically offer a variety of amenities to their residents and that can affect their costs. These can include:
Restaurant-style dining
Private and shared apartments with full kitchens
Housekeeping and linen service
Scheduled transportation
Social, cultural, and recreational activities
Emergency response system
On-call medical staff
Most communities offer apartments available either furnished or unfurnished. Most also typically feature large social rooms for community activities, fitness centers, libraries, and media rooms.
Assisted living is usually paid for from personal funds or from Long Term Health Insurance policies. As of this writing, assisted living costs are not covered by Medicare in Alabama. But if a senior spends down all their resources, then Medicaid or other state benefits can sometimes cover some or all costs.
Benefits of Assisted Living in Mobile, AL
Choosing senior assisted living in Mobile, AL presents you with several key benefits that will help improve your overall quality of life and satisfaction. While facilities differ in the programs and services they offer, most provide a standard set of services that allow you to certain freedoms and experiences, such as:
Personalized Care
Assisted living facilities focus on each resident's unique health needs and personal preferences. Gaining a deep understanding of the resident allows the staff to create the optimum environment for that resident. Personalized care can include anything from 24/7 nursing care and medication administration to mood and behavior monitoring.
Hands-On Assistance with Daily Living Tasks
In an assisted living facility, the range and level of support needed varies from person to person. Some can live somewhat independently, but others may need extra help with daily activities like housekeeping, transportation, bathing, dressing, hygiene, and laundry. In such cases, the staff provides respectful, hands-on assistance that protects the resident's dignity.
Social Activities
Every assisted living facility in Mobile offers a range of social activities that can help you or your loved one stay as active and engaged as possible despite certain limitations. Attending these activities helps prevent depression and feelings of isolation and improves the resident's quality of life tremendously.
Safety and Security
Assisted living facilities are equipped with excellent safety and security measures that not only put the minds of family members at ease, but that also reduce the risk of something happening to their residents. When someone reaches the point in their lives where they require assisted living, there is nowhere safer for them to be than in an assisted living facility.
Access to Quality Healthcare
Assisted living facilities offer access to high quality healthcare both on-site and when necessary, at local hospitals and other types of healthcare facilities. The health and well-being of residents is the facility's highest priority.
Quality Nutrition and Dining Options
Good health starts with quality nutrition, so assisted living facilities in Mobile, AL take their residents' dietary needs seriously. Most offer a wide range of dining options, including mealtimes, meal variety, and more.
Comfortable, Home-Like Setting Without the Work
Assisted living provides residents with comfortable accommodations that they can decorate as they wish, so they can truly make it feel like home. Except here, they no longer have to worry about all the responsibilities that come with homeownership, like doing lawn work, making repairs, maintaining the home, cooking and cleaning, and more.
Senior-Friendly Attractions in Mobile, AL
Mobile is home to an incredibly diverse selection of senior-friendly attractions, some of which can even be enjoyed for free. Some of the free attractions to take in include the Cathedral-Basilica of the Immaculate Conception, Mobile Bay, The Fort of Colonial Mobile, the Church Street Historic District, and the Environmental Studies Center.
Other places of interest include the USS Alabama Battleship Memorial Park, the Condé-Charlotte Museum House, Bellingrath Gardens, the History Museum of Mobile, the Archaeology Museum, University of South Alabama, and the Mobile Museum of Art, just to name a few. The truth is Mobile is home to so many cultural and historical attractions, you or your loved one will never run out of incredible experiences to enjoy.
Senior Centers in the Mobile Area
Mobile, Alabama has three senior centers in the city capable of providing a wealth of additional resources and activities for those in its assisted living facilities.
Transportation Services in Mobile, AL
Mobile's primary public transportation is provided by the Wave Transit System. It features buses with 18 fixed routes and neighborhood service. Senior citizens who are 65 or older can qualify for reduced fares. To qualify, you will need to bring proper identification to the GM&O building.
The city also has Baylinc, a public transportation bus service that is provided by the Baldwin Rural Transit System in cooperation with the Wave Transit System. It provides service between eastern Baldwin County and downtown Mobile. Baylinc operates Monday through Friday.
How to Find Assisted Living Facilities in Mobile, AL
Whether you are looking for an assisted living facility for yourself or a loved one, there are a few options available to you that can help you find the right one for your needs in the Mobile area. One option is to do it the old-fashioned way by looking in the phone book or inquiring about assisted living from your friends and relatives.
Another is to contact a placement agency. Senior placement agencies help seniors find the right assisted living facility for them by working with the senior and their family to find the best possible fit for their needs. These types of services typically charge a referral fee to the Assisted Living community since they are bringing in revenue to that facility, so they don't usually charge seniors or their families. It is important to note that since agents can only get paid by assisted living facilities that they have contracts with, you may not be shown all the assisted living facilities that are available to you.
Another option is to do use an online directory of assisted living facilities in Mobile, Alabama from a site like Senioridy.com. Senioridy's search tools are comprehensive, so they can provide you with the best possible results. Just follow these steps:
Go to Find Senior Living > Assisted Living by clicking here
On the left Search Filters and in the Located Near field type in "Mobile"
Adjust the slider to 60 mi
Click the arrow next to the field
Once you do this simple search, you will be presented with many top-rated facilities to compare.
By accepting you will be accessing a service provided by a third-party external to https://www.senioridy.com/