Why Select Assisted Living in Louisville, KY?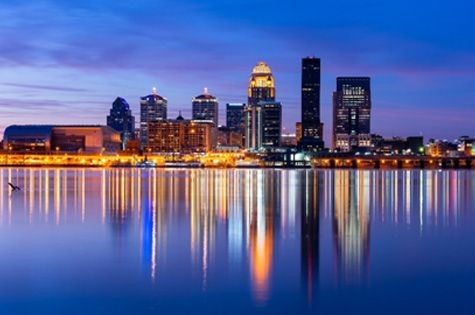 Louisville is one of the premier cities in the United States and one of the top destinations in the country for seniors looking for high-quality assisted living solutions. In fact, the city was recently named "America's Aging Care Capital" by Forbes magazine due to its commitment to supporting its older population and the fact that it is where so many leaders in the healthcare industry are headquartered.
Louisville may be best known for being the home of the Kentucky Derby, the world's best bourbon, mint juleps, and outrageous hats, but look a little closer and you'll see an incredibly innovative city that is spearheading how the healthcare industry can treat the world's growing senior population using breakthrough technologies and cutting-edge care therapies. There is no doubt that tomorrow's top treatments are being born right here and right now in Louisville, Kentucky.
But while the healthcare advancements alone can be enough to attract seniors to Louisville, there are many other reasons why this city is ideal for those looking for assisted living facilities. For starters, Louisville has a low cost of living that allows seniors to get the most out of their income. It's also a city that feels more like a small town, thanks to its friendly, close-knit communities and general relaxed atmosphere. In Louisville, seniors will find big city amenities, world-class attractions,and next-level healthcare solutions without sacrificing the neighborly feel of small-town America.
Louisville's weather is perfect for those who want a break from the harsh winters and brutally hot summers found in many other parts of the country. In this part of the Kentucky, the high temperature in summer ranges around 88 degrees, whereas the low in January rarely dips below 26 degrees. On average, Louisville gets about nine inches of snow in the winter and 46 inches of rain per year. With 195 days of sunshine annually, there's plenty of opportunities for getting outside and enjoying the beautiful nature and history that exists in and around the city.
With so much to experience in Louisville, there's no reason why it shouldn't be one of the top contenders on your list of assisted living candidates. Ithas everything you need to get the most out of your retirement, including some of the best healthcare in the country. So, if you're considering assisted living, and you want to live somewhere that is affordable, exciting, and overflowing with history and hospitality, then do yourself a favor and keep Louisville, Kentucky in mind.
Assisted Living in Louisville, KY: What You Need to Know
There is a lot to consider before choosing an assisted living community for yourself or an elderly family member but having access to reliable information certainly helps. Senioridy is a trusted resource that you can use to learn more about assisted living facilities. Just click on the topics below to get a better idea of what to expect if you are interested in Louisville's assisted living options for yourself or a loved one.
Criteria for Admittance in Assisted Living in Kentucky
Assisted Living Costs in Louisville, KY
How Many Seniors Live inLouisville?
Things for Seniors to See and Do in Louisville, KY
What are the Benefits of Assisted Living in Louisville?
Public Transportation Services in Louisville, KY
Senior Centers in Louisville, KY
Criteria for Admittance in Assisted Living in Kentucky
To qualify for admittance into an assisted living community in Kentucky, a senior must be able to walk on their own or be mobile non-ambulatory, unless they're temporarily non-mobile due to a condition for which they are receiving appropriate medical treatment. Residents also cannot be a danger to themselves or to others.
Assisted Living Costs in Louisville, KY
Assisted living in Louisville, Kentucky is reasonably affordable, with anaverage monthly cost for assisted livingof$3,500. While Louisville's average is about $50 more than the state average, it is a whopping $1,000 less than the national average. Add to this the fact that Louisville's cost of living is 11.6% lower than the national average and you can see why moving here can potentially benefit a senior's financial well-being.
While Medicare in Kentucky doesn't pay for assisted living services, financial assistance is available for those who need it through the form of a Home and Community Based (HCB) waiver. The waiver does not cover any costs associated with room and board, but it can help reduce the cost of other relevant services that a resident would otherwise have to pay out of pocket for. Certain restrictions do apply. To find out if you or your loved one qualifies or to learn more about the HCB waiver, click here.
It is important to remember that cost listed above is an average. Not all assisted living communities offer the same variety of amenities to their residents, and the number and types of these amenities can affect their total monthly costs. Amenities that can impact the cost of assisted living can include, but are not limited to:
Restaurant-style dining
Private and shared apartments with full kitchens
Housekeeping and linen service
Scheduled transportation
Social, cultural, and recreational activities
Emergency response system
On-call medical staff
How Many Seniors Live in Louisville?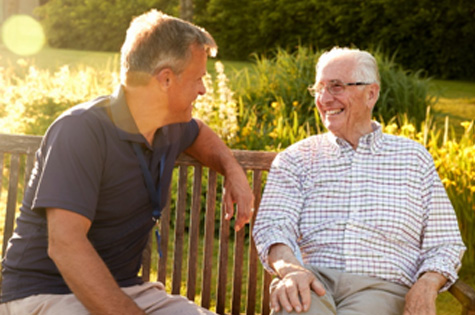 Louisville is the largest city in Kentucky, and it is home to more than 615,000 residents. Of those, 15 percent are over the age of 60. And that number will continue to rise due to Louisville being a world leader in aging and health care innovation. In fact, according to AARP, Louisville's senior population is expected to increase by as much as 40 percent by 2050.
Things for Seniors to See and Do in Louisville, KY
As the largest city in Kentucky, Louisville has a wealth of world-class attractions that any senior moving to the area will appreciate.
The city is home to the legendary Churchill Downs and the Kentucky Derby Museum, the Louisville Slugger Museum, the Conrad-Caldwell House Museum, the 21c Museum, and the Kentucky Science Center, just to name a few of the incredible museums in the area. Senior sports lovers also have several professional sports teams to root for, including the Louisville City FC, the Racing Louisville FC, and the Louisville Bats.
For nature lovers, Louisville's outdoor attractions are plenty. Three of the most popular include the Louisville Waterfront Park, Cherokee Park, and Iroquois Park. There's also the Jefferson Memorial Forest, the Otter Creek Outdoor Recreation Area, and several other parks, but these are found a little farther outside of the city's downtown area.Other noteworthy attractions in Louisville that seniors may appreciate include, but are not limited to:
As if that isn't enough, Louisville is also considered one of the best cities in the country for foodies. Already well known for its bourbon and biscuits, Louisville is also where you'll find the very best renditions of Kentucky favorites the Hot Brown, Benedictine spread, Burgoo, and Modjeskas.
What are the Benefits of Assisted Living in Louisville?
Moving into assisted living in Louisville can be a hard decision to make, but it's one that can truly improve your loved one's quality of life. These facilities are specially designed to provide each resident with thepersonalized services that they need to live and enjoy their best life. While each facility may offer its own unique selection of programs and services, most provide a standard set of services that allow every resident to enjoy certain freedoms and experiencesdesigned to make this transition highly beneficial to them, such as:
Living Spaces That Feel Like Home
Making the decision to move into an assisted living facility isn't always easy. But one thing that can help make the transition smoother for you or your loved one is having the ability to decorate your new living space withyour own furniture and/or household items. This allows one to transform their new apartmentinto a comfortable living space that feels more like home. Having this sense of comfort, being surrounded by the things they love most, can often play an important role in helping assisted living residents adapt to their new living environment quicker and easier.
Personalized Care
A good-quality assisted living facilityneeds to have capable staff on hand who are skilled at providinga customized level of care, so they can satisfy everyresident's unique healthcare needs and personal preferences. Personalized care canvary, from nursing careservices and medication administration tocomprehensive monitoring for mood and behavioralissues, but regardless of your loved one's individual needs, you can have peace of mind knowing that all his or her personal care needs will be met.
Hands-On Assistance with Activities of Daily Living (ADLs)
Not all assisted living residents have the same needs. Somemay only need a little assistance with certain tasks, while others may need extra help completingtheir Activities of Daily Living, or ADLs.ADLs include a range of tasks such as housekeeping, bathing, dressing, hygiene, laundry, and more. Any assisted living facility's staffis specifically trained to provide respectful, hands-on assistance that protects the resident's dignity.
Quality Nutrition and Dining Options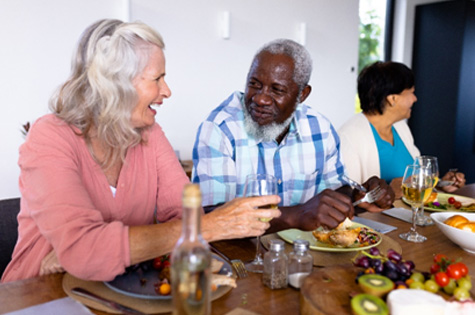 Good nutrition is paramount if we want to maintain good health as we age. As a result, assisted living communities in Louisville offer their residents a wide range of fresh and delicious dining options to choose from. Offering flexible mealtimes and an outstanding meal variety, many of these facilities are even equipped with professional kitchens and well-trained staff who are capable of preparing customized diet-specific menus for those residents with certain dietary restrictions.
Access to Quality Healthcare
Assisted living facilities offer their residents access to a range of quality healthcare services, both on-site and when necessary, at local hospitals and other types of healthcare facilities. Louisville is fortunate to be home to several excellent healthcare providers, includingBaptist Health Louisville, Norton Healthcare, and the UofL Health-Jewish Hospital, just to name a few.
Engaging Social Activities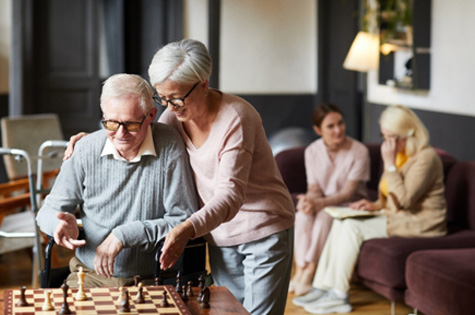 Activities play an important role in the lives ofolder adultsbecause they help them stay active and engaged despite any limitations they might otherwise be living with. From dance classes, book clubs, and pottery to gardening and daytime excursions, every assisted living facility has a wide array of activities for its residents to choose from. Participating in them is not only proven but highly encouraged as they can effectively help reduce feelings of isolation and depression, especially among new residents. Participating in social activities can drastically improve one's overall quality of life by helping them make friends, accomplish goals, and quite simply, have fun.
Safety and Security
Providing a safe and secure living environment is essential when a senior reaches the point in his or her life where they require help with their ADLs or are more prone to wander. When this happens, there is nowhere safer for them to be than in an assisted living facility.Living in a community where advanced safety measures are in place not only helps reduce residents' risks, but it also puts the minds of family members at ease.
Public Transportation Services in Louisville, KY
Louisville's public transportation is provided by the Transit Authority of River City (TARC) and it offers an expansive route system involving over 200 fixed route buses and rapid transit buses. TARC also provides paratransit services for those unable to ride its regular buses.
TARC offers reduced fares for citizens aged 65 and older. To be eligible, seniors must show proof of age or government-issued ID and obtain a MyTARC photo ID card, which are issued only at the TARC Customer Service kiosk located at 1000 W. Broadway, Louisville, KY 40203. Reduced fare MyTARC photo ID cards have an initial fee of $5.00. Hours of operation are Monday through Friday, 8:00 a.m. to 5:00 p.m. For more information, call (502) 585-1234.
Senior Centers in Louisville, KY
Senior Centers throughout the Louisville area providevaluable services to local seniors, including a wide array of leisure, wellness, and educational opportunities. The following is a list of senior centers where assisted living residents can access beneficial programs and activities:
How to Find Assisted Living Facilities in Louisville, KY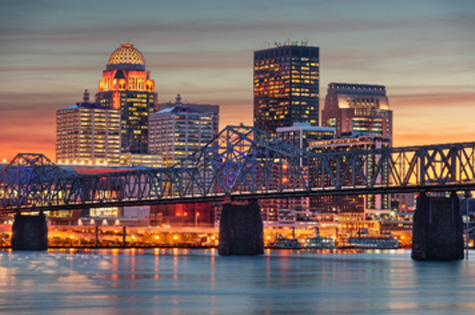 Whether you are looking for an assisted living facility for yourself or a loved one, there are a few options available to you that can help you find the right one for your needs in the beautiful city of Louisville. One option is todo it the old-fashioned way by looking in a Louisville phone book or inquiring about assisted living from your friends and relatives.
Another is to contact a placement agency. Senior placement agencies help seniors find the right assisted living facility for them by working with the senior and their family to find the best possible fit for their needs. These types of services typically charge a referral fee to the Assisted Living community since they are bringing in revenue to that facility, so they don't usually charge seniors or their families. It is important to note that since agents can only get paid by assisted living facilities that they have contracts with, you may not be shown all the assisted living facilities that are available to you.
Another option is to do use an online directory of assisted living facilities in Louisville from a site like Senioridy.com. Senioridy's search tools are comprehensive, so they can provide you with the best possible results. Just follow these steps:
Go to Find Senior Living > Assisted Living by clicking here
On the left Search Filters and in the Located Near field type in "Louisville"
Adjust the slider to 60 mi
Click the arrow next to the field
Copy the very long URL, this is the link you will use
Once you do this simple search, you will be presented with many top-rated facilities to compare.
By accepting you will be accessing a service provided by a third-party external to https://www.senioridy.com/